K... first off as ya'll may or may not know, I'm
not
known for buildin' bikes in a hurry lol, I like ta take my time, usually whiling away the winter tinkerin' and somtimes wondern' what in heck I've gotten myself into.
This 'uns no different, well... mebbe a lil heh
Usually I don't like to post till I "cut steel" so to speak but w/this 'un I'm gonna need a lil feedback - as it's a complete scratch build in multiple stages & I've got such a long list of parts to source, such a number of "experiments" goin' on that it'd be foolish of me to not tap the expertise of the members here.
I'm planning on using Atomic Zombie's 'Warrior Racing Trike' for the basic platform, the 178pg .pdf "blueprints" providing more than enough info on the chassis construction w/a ton of helpful hints and tricks not least of which scavenging as many bits from other bikes as possible, which suits me quite well occusly - while there's many a deviation from the basic plans in store for this build, first off & most important I think is I'll be using
chromoly
1&1/2" square tubing instead of the 1/16" sidewall mild steel the plans call for as I suspect I may be stressing the frame a bit more that the developers had in mind heh

YouTube - Warrior Tadpole Trike - AtomicZombie.com
Atomic Zombie Extreme Machines! - Bikes Trikes and Choppers Plans.
I've purchased the Lifan 50cc 3speed auto-clutch w/electric start from TBolt for the powerplant (still waitin' on the blasted brown truck lol), for some pretty obvious reasons I wanted it w/reverse - but was unable to find it for domestic sale *sigh* ...is ok tho, it'd be pretty easy to swap engines if I found one.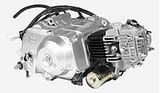 Engine Model Lifan 1P39FMB
Type 4-Stroke single-cylinder OHC air cooled
Compression ratio: 9.0:1
Displacement: 49.5cc
Max. HP: 2.7 HP @ 7,500 RPM
Max. Torque: 2.0 ftlbs @ 5,500 RPM
Carburetor: 19mm Walbro
LIFAN 50cc Electric - Engines - Lifan 50-150 Engines - LIFAN 50cc Electric - TBolt USA, LLC
http://motorbicycling.com/f37/alternate-4-stroke-engine-list-19630.html
Now... this is where it starts to get a lil odd heh & I'm not really sure of it's viability but w/e, that's what experimentation is all about and is ofc why I'm posting so soon in the R&D phase, to get some feedback from ya'll... Initially I was lookin' into a diesel/electric hybrid but failed miserably in finding
any
diesel alternative in an appropriate size/weight, sadly they don't seem to exist - not even as a genny Not to be daunted by such setbacks I settled for the four stroker above *shrug* ...I'm not so sure about this 'Magic Pie' electric motor, but after a bit of research it may well be my only option - in fact I'd have ordered it already but to my surprise they want about $120 for shipping
alone
! Looking around to find less outrageous S&H I found it doesn't matter where I get it, or even from what country - they all want about the same. I figure they're drop shipping from China to get these things, just not all of them are admitting it lol Anyhoo, other than the obviously nice built in features (such as reverse and true regenerative braking) - the primary reason for this particular 'letric is it's disk brake compatibility.
Magic Pie motorized Wheel
Brushless gearless hub motor
Double-wall Aluminium Rim
Built-in cruise/regen controller
Hydro-proof EasyConnect wires
Twist Throttle and Thumb Throttle
Power brake levers for Regenerative Braking
Control switches
Golden Motor ebike Canada
The single 'letric "pancake" motor in the rear was yet another compromise from my original daydream - I'd wanted twin 'letrics for the front wheels, making it a 3WD, this necessitated reversing the polarity of one of the motors ofc & while that wasn't a major problem even with the "Pie" (gotta reverse the phase wires not the main leads)
MP Reverse
- there were other apparently insurmountable problems, not least of which the axle itself which is not designed to only be supported from one end. Making the problem worse is I really didn't wanna spend almost a grand for
just
the electric engines... but the smaller, less expensive versions weren't disk brake compatible, had hollow axles & wiring routed in an unsuitable fashion, etc...
As enough is
never
enough lol, the alterations to the chassis only starts with trying to fit the four stroke engine. While that'll most likely entail going with a twin beam chassis instead of the single in the plans (raising ride height a touch & placing the horizontal engine under the seat), that necessitates a steering mechanism alteration as well as the 'Warrior' steering is in the way ofc...but that's jus' a "minor" detail lol, it gets "worse" from there heh
There's a
major
problem with runnin' any sort of a trike around here, we've really got no shoulders on our roads to speak of - even when there is, our winters are so harsh and our road funding so poor that they're all torn up and trashed, even if just littered with debris. With that in mind I was initially lookin' into a leaning trike concept for it's narrower wheelbase, even a Delta leaner such as this one:
Jetrike.Com - FWD Tilting Recumbent Trike
& free plans here:
http://jetrike.com/plans/Jetrike-MkII-Plans.pdf?license=I+Accept
but I failed miserably
again
trying to figure out how to motorize it. Unable to get the power to the rear wheels (no CV joints lil 'nuff, U joints not having enough travel), unwilling to use a tiny friction drive on the front w/electrics on the rear - I scrapped the leaning Delta idea and moved on to suspensions...
While a tadpole w/a double A-arm front suspension is ofc awesome:
http://berserkercycledesign.com/wp-content/gallery/yellow_production/bottom_800.jpg
&
YouTube - Comfortable Full Suspension Adult Tricycle
and in fact that's prolly my steering solution (that's a 5-7700 dollar trike BTW OMG), the suspension design while superior w/far greater travel - it limits later modification & in fact has an unsuitably wide track...
The rear suspension is so easy it's almost an afterthought heh, it's just your basic bicycle rear suspension & chainstays chopped off at the crank & zotted on. It's been done successfully by so many, so frequently that I almost wonder ifn I outa do something different just to confuse myself heh... but ofc there's always the drive chain from the four stroke and it's tensioning problems to resolve, so I suppose that'll be 'nuff of a headache to satisfy me:
Builder's Gallery - Tadpole Trike 4
Sooo... yea, that's a quick outline of the madness I've in mind for this winter - obviously that's just the tip of the iceberg & as I'm still in the sourcing stage there's many a detail sure to change. Some things are simple like controls and brakes with my thoughts being the dual engines call for dual controls, simplified with the left being the front brakes & electric throttle, the right being the rear brake & ICE throttle & shifter. Should for some reason the electric aspect fails (as it's by
far
the most costly, even unreasonably so) I'll simply use a 36 spoke moped hub w/drum brake & dual sprockets that I've conveniently already gotten... tho it's true that'll limit me to a 3sp as a pedal trike *shrug*
===============================================
Test run vid:
https://www.youtube.com/watch?v=bNLTLRx8sTI
Build pics;
tadpole photo album
Build vids;
walk around
first ride (clip)
relay panel & keyed switch
lighting & controls
jackshaft & freewheel
electric drive
CRF50 clone first start & run
gear indexing & shifting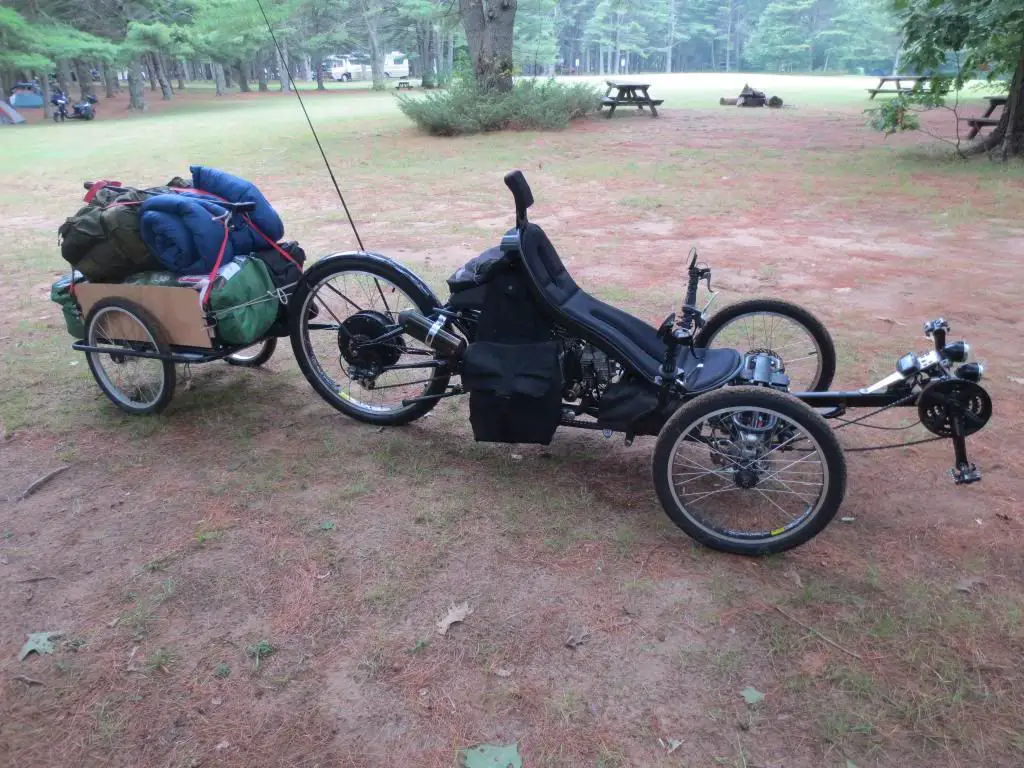 Last edited: