Just found this forum! Awesome
This is my 1st successful attempt at building a motorized bicycle. From what I see on here most people use old Schwinn type bikes. I chose to go with BMX for a couple reasons. I will keep those to myself! lol
I know the slant of the motor might raise some questions, and I was worried about it from the beginning but so far it has not cause any problems. I'm sure it will foul up the motor eventually, but h*** this thing goes and for this build that is really all I cared about.
Built with 90% found or scrap or junk or re-purposed bits and pieces.
probably a dozen different people have driven this thing a total of 100 miles, HARD.
I wish I had taken more pics of what exactly went into this thing and all the bits and pieces. But there's some good stuff here.
There were a total of 3 phases (so far...) of work done on this "thingy". A "thingy" that hits 41 mph. First it started off comprised of the BMX bike, and pulleys and belts from the Tiller that the motor came from. It "worked". Then I gained access to some junk go-kart parts. Some frame mods, and changing over to two chains (hence the name) were next. The 3rd phase
Bits and pieces:
-Crummy FREE old rusty Mongoose BMX bicycle
-Garden Tiller
-Jack Shaft
-Centrifugal clutch
-Go-kart exaust pipe
-Ammo box
-Faux Ostrich leather
-Various harware
Evolution:
No pics were taken in the initial phase of the build, but I do have a video detailing the mechanics and a POV ride. It was really about a simple build to get the systems involved working. So nevermind the scary frame and shotty welding!
link here
>>>
http://youtu.be/inKNYZs_yVI
I did take some pics of "the rest" of the build: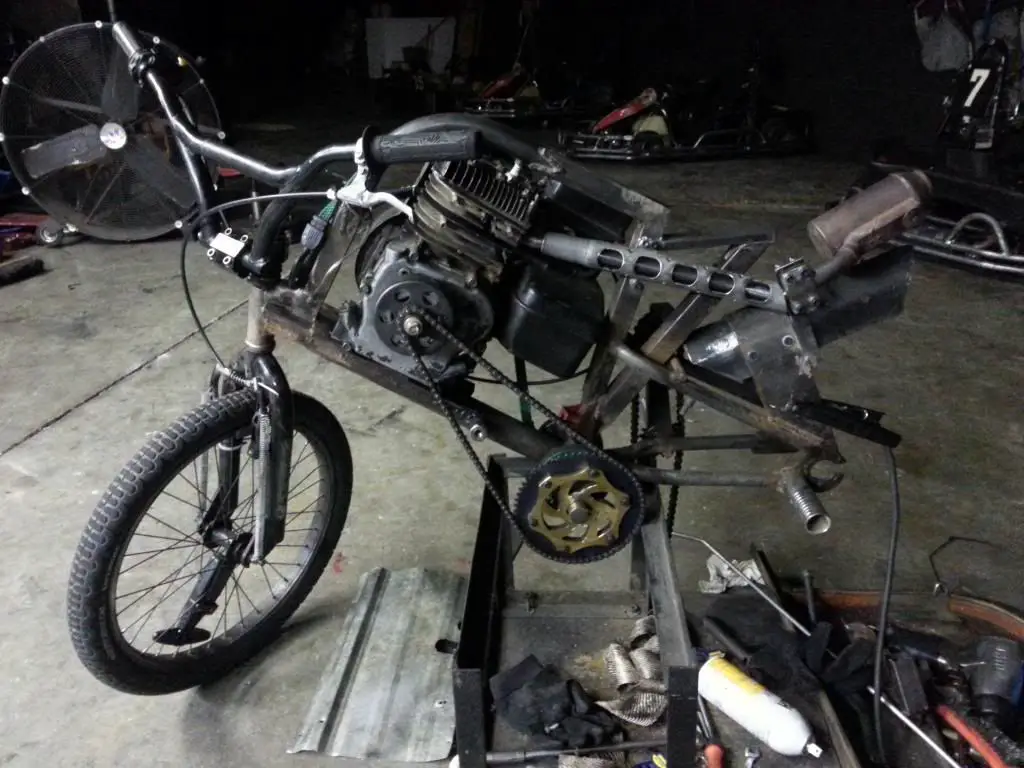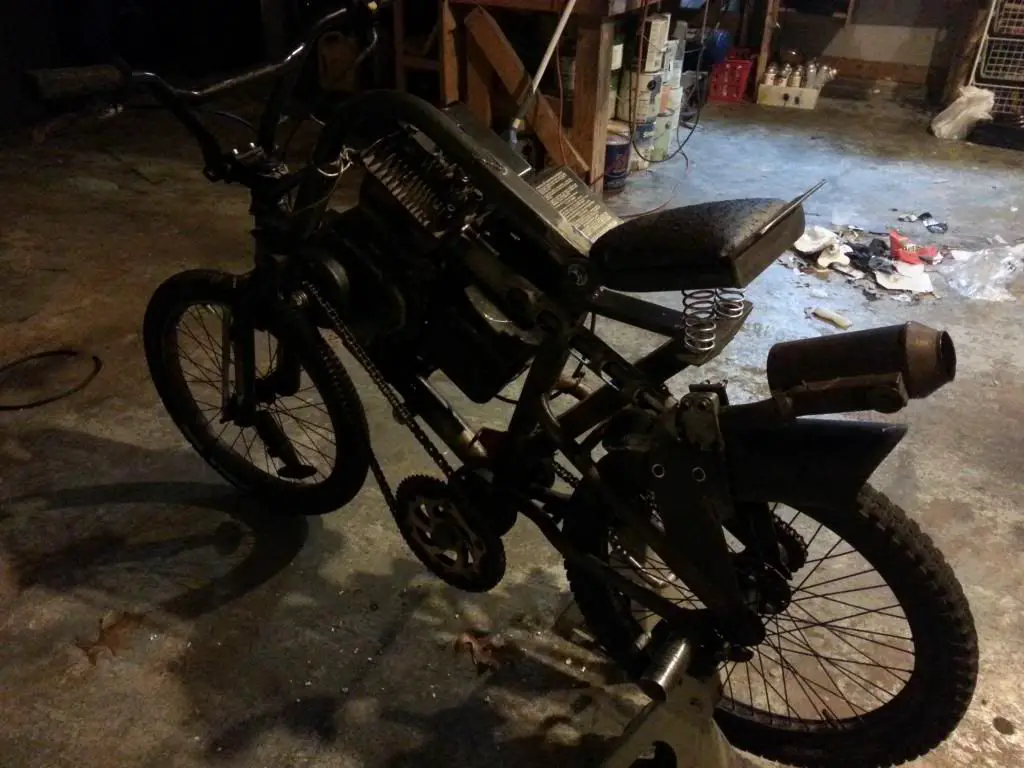 I wish I had finished that up with a pic that includes the rear wheel. Maybe I will add one later on.. But that's not all....
Here is a POINT OF VIEW
POV video
with a trip I took to work (I drove it daily to work 2mi for a couple weeks) and towards the end I speed by a cop doing 40mph easy in a 30mph zone, I try to turn off of the road really quickly only to eat asphalt! (far from breaking the bike)
link here
>>>
http://youtu.be/MznC1UugVZQ
enjoy! and please comment! because until now I have not been able to find many people very interested in these things! Always an eye catcher, but they have no IDEA what they are looking at!