Jun 27, 2017
914
2,528
93
67
Hi folks....
....from a new forum member located in the UK. I just finished up construction of my first ever motorized bicycle build over last weekend - so I thought I'd join this forum and maybe post some photos showing how my INDIAN Board Tracker tribute bike turned out.
Truth be told, I was mainly inspired by the quality and look of the Sportsman Flyer products - but after I did the math it didn't make any sense to go that route. Importing everything into the UK was simply too prohibitive what with all the shipping and import taxes - especially so after the value of UK Sterling fell 20% against the US Dollar following the Brexit vote. Soooo....how to aim for the 'look' of a Sportsman product - but still keep the build budget more realistically grounded. Important, given that motorized bicycles are not even road legal in the UK. (Hopefully that won't be too much of a problem for me being located in the
very
rural Northumberland countryside where I can't recall the last time I saw any police).
First up, I should make clear my build didn't start life as a bicycle. Instead I sourced
all
the parts used for this project from eBay or via mail order. My initial purchase comprised the frame/forks/tank which came via cnolmotorsport in China. I discovered these items while surfing on US eBay and dropped them an e-mail, optimistically asking if they would ship their products to the UK. They replied by return quoting a mere $30 for airmailing these bulky items to the UK from China. Deal or what?
Their light and strong ali frame is a re-pop of a 'fifties Schwinn Panther. Unfortunately, early on during construction I had to remove the frame's welded-on front motor mount 'cause it resulted in the motor's aftermarket high compression cylinder head fouling the upper frame member. Their springer forks are all but identical to Monark's - only less pricey. (I'm on a budget, remember!) And it must be said their gleaming polished stainless fuel tank is a work of art - shame I always intended to paint it.
My engine kit was another unexpected eBay bargain from a private UK seller whose motorizing plans failed to get off the ground. It arrived still in the factory packaging - a snip at less than half normal advertised price. I'm never usually that lucky!
Anyone might assume my bike's adjustable drop handlebars look like the ones offered by Sportsman but look closer and you'll see they were fabricated from nothing more than two cheap pairs of bars and 4 x sets of ali mirror brackets bought on eBay. Those eBay bargain bars cost less than 3 quid a set (really!) and the plated ali mirror brackets were under 3 quid a pair. Hard to believe but those cool-looking bars ended up costing me less than 25 quid in total. And there's more...offcuts from the bars were used to fabricate the set-back zee'd seat post. Waste not, want not.
Check out the photos showing how my INDIAN wannabe turned out. Questions?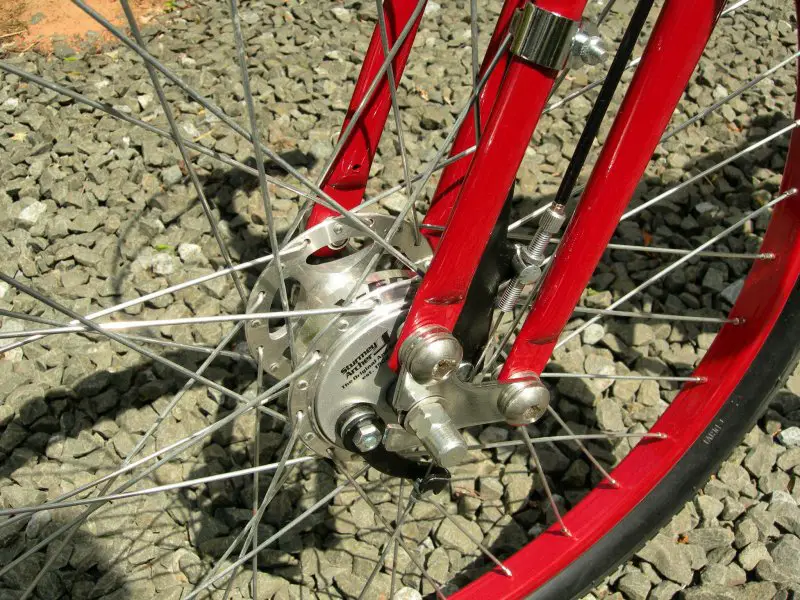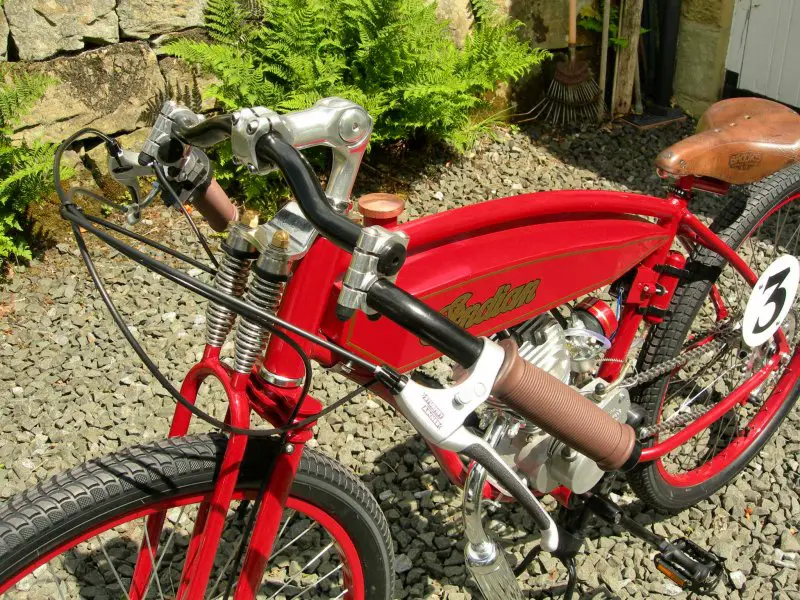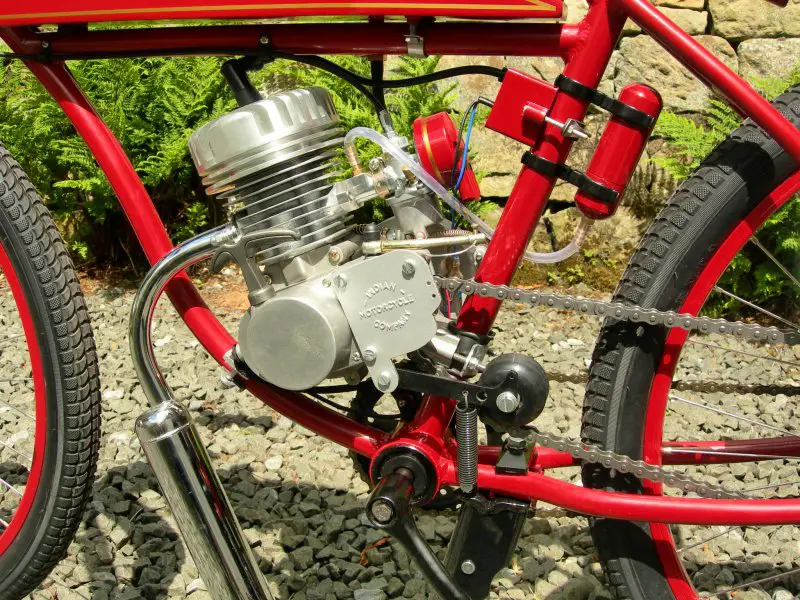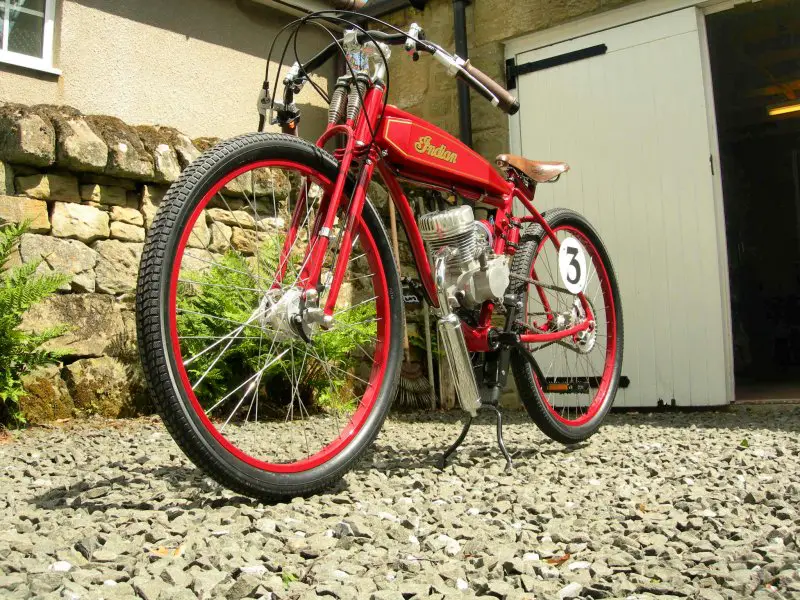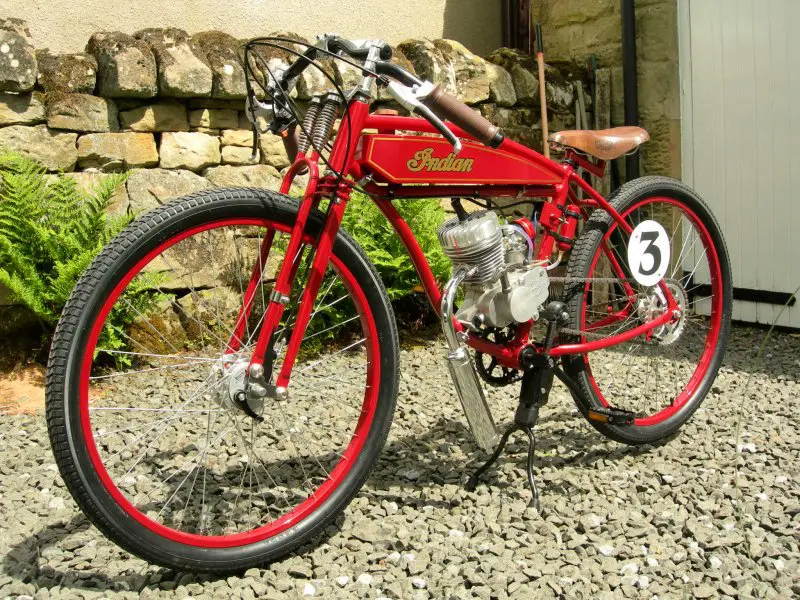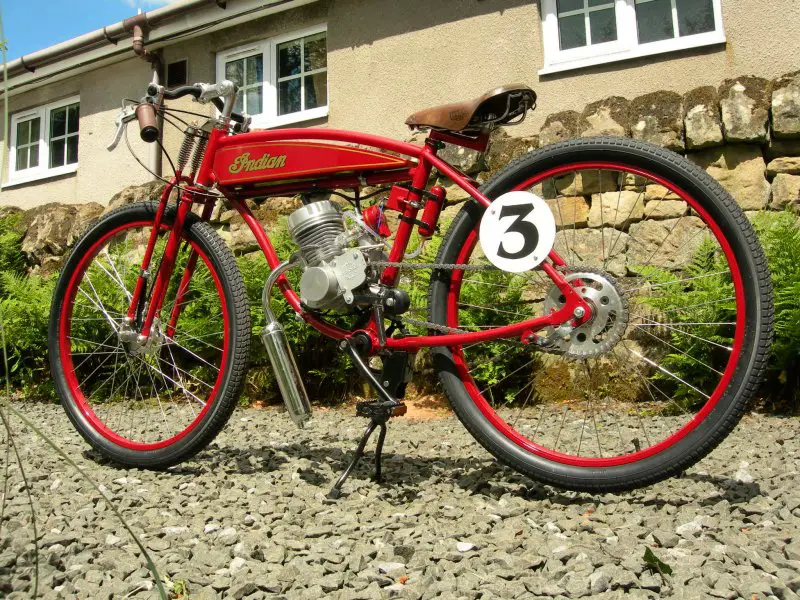 Fire away and I'll be happy to answer.
I had a lot of fun with this first build and learned a lot about what NOT to do by watching umpteen youtube videos and postings on forums like this one. Lots of useful hints and tips there.
Can say for certain plans for my follow-up build are already brewing.
Pete
Last edited: