Hello Motor Bicycling.com I'm Matt, a new member to this forum, however I've been working at this motorized bike for close to 3 years now and I've only got it running a hand full of times unfortunately. First a little bit of background about the bike. I first purchased the Huasheng 4-Stroke engine kit at GasBike.net along with the 4 stroke shift kit at Sickbikeparts.com back in 2015. Also purchased a mountain bike and upgraded Shimano hydraulic brakes. After having assembled the bike in the summer of 2015, I did manage to get it running a hand full of times with the top speed clocked at 45mph. After about 2 rides on it I noticed the engine mount was sliding downward on the frame thus putting slack in the chain, fixed the issue with the mount.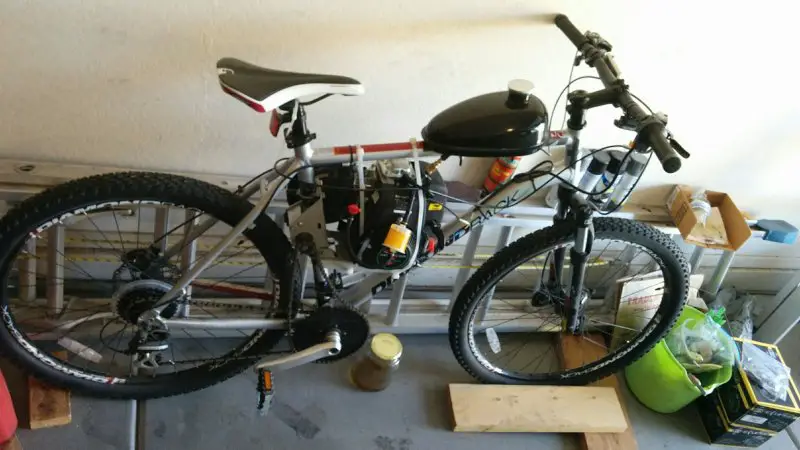 After having the motorized bike sit for quite a while roughly 2 years, I tried to start it up again recently and it wouldn't fire up. So I took apart the carburetor cleaning every part meticulously (tons of old fuel lacquer inside the carb), cleaned the fuel tank, put in new fuel lines, new fuel filter, new on/off fuel valve and new fuel. I also replaced the cheap chinese spark plug included in the kit with an new NGK plug.
This boils down to the current issue that I'm having with the Huasheng 4-Stroke 49cc engine not wanting to start no matter what I try. After replacing most of the fuel components, new spark plug and carb cleaning it's still a no go. I've even tried pulling the throttle a little bit to put some fuel in the cylinder when pull starting it, but it still doesn't start up. I've also looked at the engines compression and it looks good.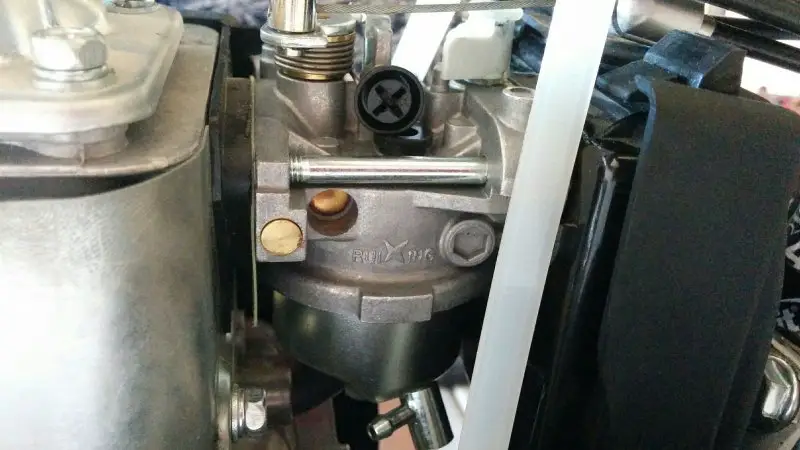 After doing some research online I've come to the point that I think the reason for the bike not starting is that the air-fuel mixture is off. Doing some research I've found that the mixture can be adjusted with a screw located on the back of the carb(pictured above). It appears that the carb that came with my motor has a brass plug in the place of the adjustment screw.
Would this be a problem with the air-fuel mixture? If so should I replace the carburetor, and what carburetor would you guys recommend?
Hoping to get this motorized bike project up and running as soon as possible!