Bonneville Bomber the Salt Flat record breaker
Jun 25, 2009
1,834
451
83
Just starting a new build and really taking a direction change on this one. Well, at least in the engine (motor?) department. I rode an electric motorcycle recently and then a few electric powered bicycles. My first observations were they are fast and smooth. They also have fewer legal requirements to ride on the street. My problem is I am a gas engine gearhead through and through. I also like vintage designs and have always built bikes with this in mind. As time has gone on I have developed a nice basic vintage style pedal bicycle and have a standard drive train system to accommodate just about any engine. So, how do you go electric, stay vintage, and use the parts you have already developed? By building a cool looking v-twin engine case and stuffing the electric motor inside the crank case! So, here is what I have so far.....
I drew up a reasonable looking Indian V-twin, something that could easily be fabricated out of waterjet cut aluminum sheet, then formed where needed, and assembled. Here is what I have so far.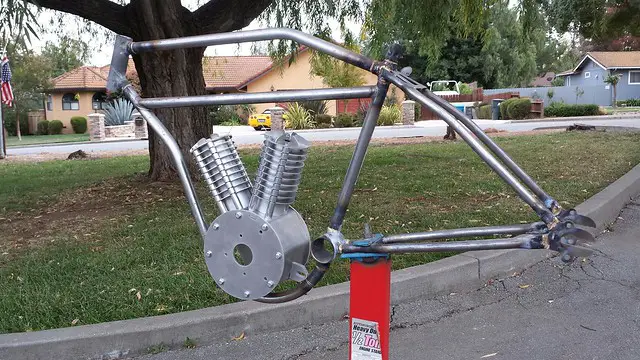 Electric Flyer
by
Pat Dolan
, on Flickr
Electric Flyer
by
Pat Dolan
, on Flickr
The right side plate on the crank case is removable to install the electric motor. The electric motor has a c-face mount so it will bolt to the inside of the left hand crank case plate. The cylinders are hollow so additional batteries can fit inside, but initial plan is to mount the main battery pack inside the gas tank and locate the motor controller inside the tool box. This build will take some time as it is my first attempt at an electric bike.