So, my bike's been running since early December '07 albeit with some basic bicycle mechanical glitches... nothing to do with the motor kit... and I have ridden alone the entire time.
Usually I'll ride the 4 miles or so from where I live towards the coast to a popular tourist spot called The Venice Boardwalk, then a few miles more up to Santa Monica Pier, then back again on a different route through a familiar neighborhood.
It's fun, but... *sniff* ...there have been no other motorbicycle enthusiasts to be seen anywhere...
Until today.
Lo and behold, I get to the beach and as I'm ready to turn into an alley that parallels the boardwalk, I spot TWO MOTORIZED Schwinns! parked at the side of the street in front of an outdoor cafe.
I think to myself, "I'm parking right next to them and I'll know exactly who they are in a minute"... hahahaha.... and wouldn't you know it, I see the two dudes responsible: Larry and Norm.
We meet and talk about our bikes over a refreshing beverage, comparing notes and having a few laughs. For now, I quickly dub our trio the Venice Motoredz.
We get to the subject of exhaust noise levels, then we decide to go for a short ride up to Santa Monica Pier...
Anyway, here're are a few crappy cellphone pics of the three of us after our short trip... next time, Norm's gonna bring a real camera; one that doesn't make Larry look like Father Time, me look like I have a Groucho moustache and Norm look like he's a noseless hunchback retard... I assure you, from what I could see, the chicks dro0l over the Normanat0r.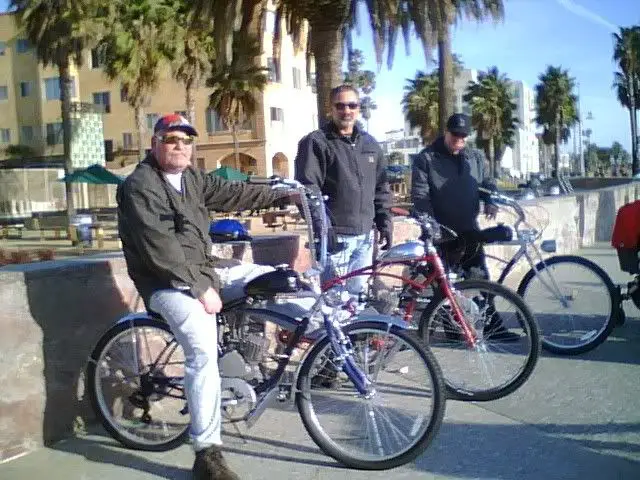 Larry, me, then Norm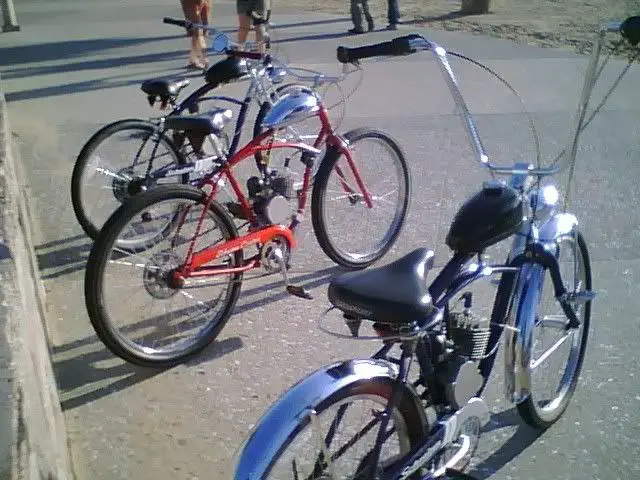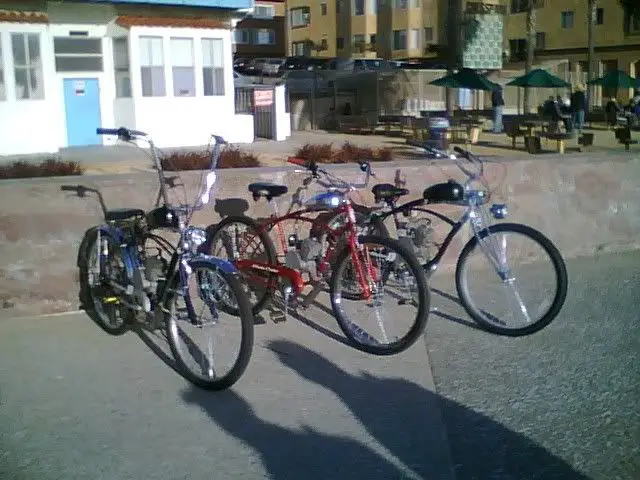 These two guys are a great addition to my motorized bicycling hobby; I look forward to meeting up with them weekly if possible.
Larry and Norm, you guys rock! Great to meet you!
- Chris
~