New here. Great site. What's goin' on in that BTR forum is nothing short of amazing! I had no idea. I'm just about embarrassed to take my skill set anywhere near those guys ...
But here's what I got: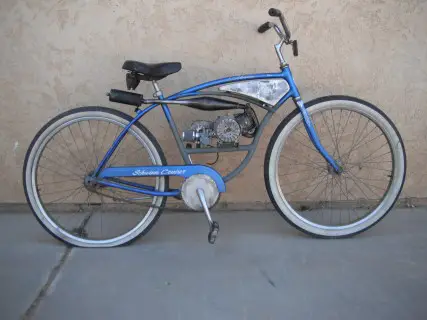 It's a 49cc China motor from a "left out in the rain" mini quad and my sister's old Schwinn. Both items left for dead until I came along.
Some progress: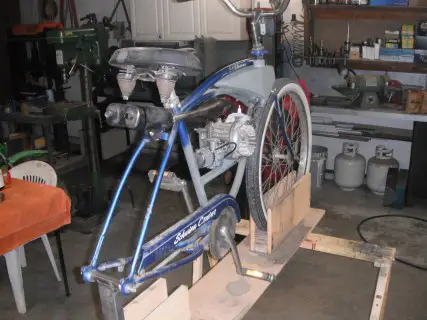 Performance wise it's just about a dumb as it gets ... but we gotta have that dual exhaust! Can't live without that. Twice pipes! I'm also liking my faucet handle gas cap too. Sort of says Steampunk and Redneck Engineering at the same time.
My intent with this soon to be fine machine is general transportation. Since I retired I've pedaled a cheap 29" Wal-Mart bike somewhere north of 5,000 miles, but I won't be able to do that forever. Having just finished my 67th lap around the sun we're definitely on the downhill! But as long as my sense of balance is good enough to walk upright I should be able to ride that Schwinn. If the weather's nice and it fits in my backpack there's no reason to start the truck.
Being a natural born coward my big consternation at the moment is what to do about brakes? I have it on good authority from people I respect that the coaster is marginal at best and pretty much useless in general. I do like a good panic stop when necessary! A locked up coaster's not much help.
Performance wise I suppose discs are best, but somewhere during my web travels I read that my original forks aren't up to the stress of having a disc on just one side of the hub. I dunno. Seems plausible.
So whaddaya think guys? Are my skinny Schwinny's strong enough for a disc?
FWIW, toolwise my most prized possession is a 1952 Logan Turret Lathe. Making my own hubs is a very entertaining thought. I could do that .....