So ok, first here is my bike. (Old photo, but not much has changed.)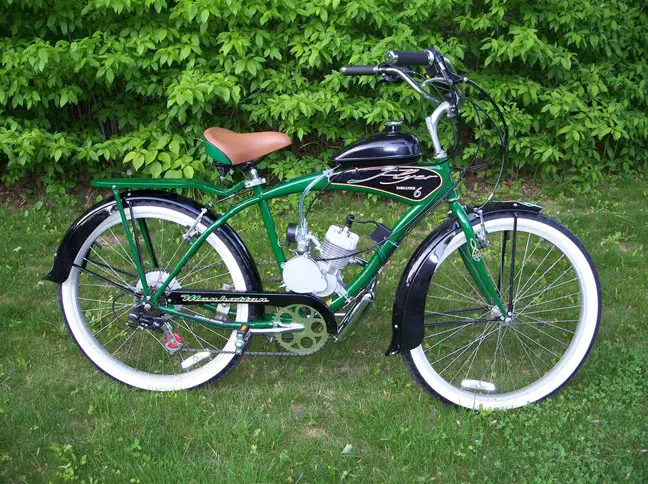 Last summer, took a minor spill, busted the brake lever and shift levers, and though the motor will start and run, it's no longer engaging the wheel.
It's already had one ring job and was probably due for another. But it's seen probably several thousand miles by now… It's ready for a change.
Besides, I'm no lightweight and usually have to "assist" the motor up hills. I'd like a tad more power.
So going to attempt to do this myself. (Yea well, already asked the neighborhood mechanic and he's willing to help when I get stuck.)
So…. give me suggestions on a good 4 stroke motor.
ALSO… while I'm at this, that odd style frame makes it darn near impossible to mount the gas tank. The guy I bought this bike from drilled holes through the frame to sort of put in the standard mounts. BUT it's not good. No way to really get the tank on tight, so in time the tank bolts poke through. I'm on my third tank now and got that secured with really ugly plastic straps.
Was looking at possibly getting one of those frames with the tank already built in. Any thoughts on that? Found some on ebay for less than 200.00. But also found some going well over 600.00. WHAT is the difference?
Thinking as long as I'm going to redo the whole motor thing, may as well solve the gas tank issue too.