After having the OEM killswitch fail on me, I was left looking for a better replacement. I looked around on the web and came across a few for motorcycles and so forth, but they were $10 or more with an average shipping cost of $6, and they were ugly to boot. I thought to myself, "Surely I could make one of these switches on the cheap, and make it look better."
I liked how the OEM switch was integrated into the throttle and only a slight reach away. I made a trip to radioshack looking for a momentary switch of similar size. I found a two pack of such a switch for $2.99 (One red and one black, I love options). Didn't feel like dropping $8 for way more wire than I needed, so I made a trip to Lowe's and bought 8ft. of lamp wire for about $3.
Went home and began inspecting the OEM switch housing and found that you can easily remove the supplied switch with no problems. You just unscrew the small bolt on the bottom of the housing and slide it out. I used a dremel to modify the housing so the switch from radioshack fit. When I ran the wiring I decided to solder everything together to get rid of the crappy connections supplied with the kit. I wired the switch as outlined here:
http://motorbicycling.com/f4/how-wire-chinese-2-stroke-bicycle-142.html
. It works great and no need to ground.
Im very happy with how it turned out for $6, and an hour or so. Now I have my aux wire (the white one) free. My next project is some custom LED headlights and taillights powered through this wire. Gonna be sick once I find some free time between classes, work, and my thesis.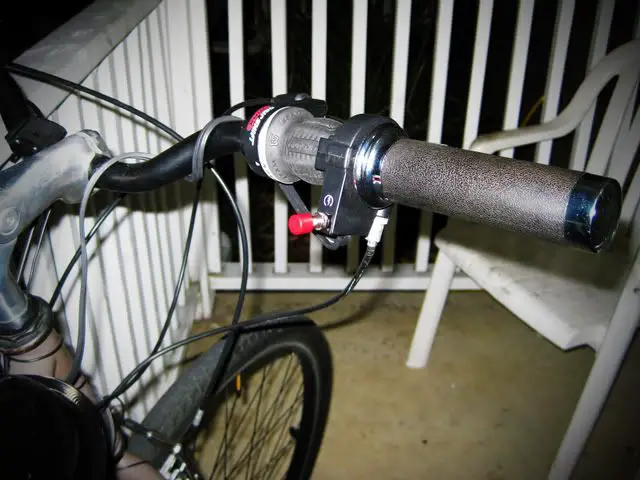 PS - I love this forum, loaded with knowledgeable and friendly people. Not your typical forum IMO.