Ok, so I think I have finally figured out exactly what I want to do for my build.
My question to you is... With the GXH50 having this power curve:

...and a setup basically exactly like the SBP setup what will be my maximum possible speed at what RPM.
I'm trying to figure this out so that I can choose the correct gear ratios before I purchase the gears.
With the help of Jim Donovan at
MaxTorque.com
I have been able to figure a lot of things out..he is a real stand up individual; I would recommend doing business with him to anyone. He pointed me to a speed calculator on his website which I pretty much totally revamped. My best guestimate is that after the 6000 RPM range the torque loss in the curve is going to be the major limiting factor preventing me from going any farther.
Here is a picture of my calculations with what I am guessing will be the bikes maximum speed(about 225lbs total is my guess of the weight):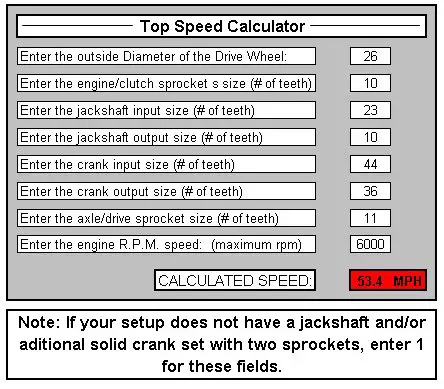 (I could be way off though as I really don't know what the heck I'm talking about..also, I don't intend to ride at these speeds, I'm just making sure that if I can, and I want to, then I'll be able to. So please let's keep the yelling about me killing myself to a minimum

)
Remember, this is the absolute maximum speed I think I might be able to get close to, if you think I might be able to get to a higher speed at 6K RPMs then I will reduce the ratio to reach that speed, but if you don't think I will be able to get any where near that speed then I will increase the ratio to reflect the median speed that everyone thinks I could reach. Additionally, if you think I might be able to reach that speed but that it will be closer to 7K RPMs I will change the ratios accordingly and so on and so forth.
Here is a link to the
speed calculator
just in case anyone wants to use it.
I think that's about it for now, thanks a ton for any help and happy ridin!

P.s. I fixed the typo in the calculator...
Last edited: