As I've not seen another one of these here, though it's possible I missed it if there was, I figured I'd share some pictures of this for anyone curious as to what it looks like on the inside. Be warned, this one isn't pretty and I would actually appreciate any input from any other owner of this engine.
This teardown was performed after clocking up barely 25 miles on the engine. Some time was spent battling with an overheating issue and eventually having to settle on a .76 jet (I am below sea level here) that was a little rich, unfortunately this didn't help and as soon as the engine has run for around five minutes it will begin overheating and losing power to the point that it was unable to pull a trailer up a ramp - a trailer with barely 30lbs loaded onto it where my 66cc China kit has pulled over 250lbs up that same ramp numerous times, though it finds it harder now due to a loss of power of its own that I suspect is a leak in the crank case, still waiting on gaskets to tear that one down for inspection - either way, with the China kit I can get there and back and it never let me down, with the Raw Racer II I had to walk most of the way home.
Here is a brief compilation of footage from when the engine was running;
Now the images of its internal organs after just a few short journeys;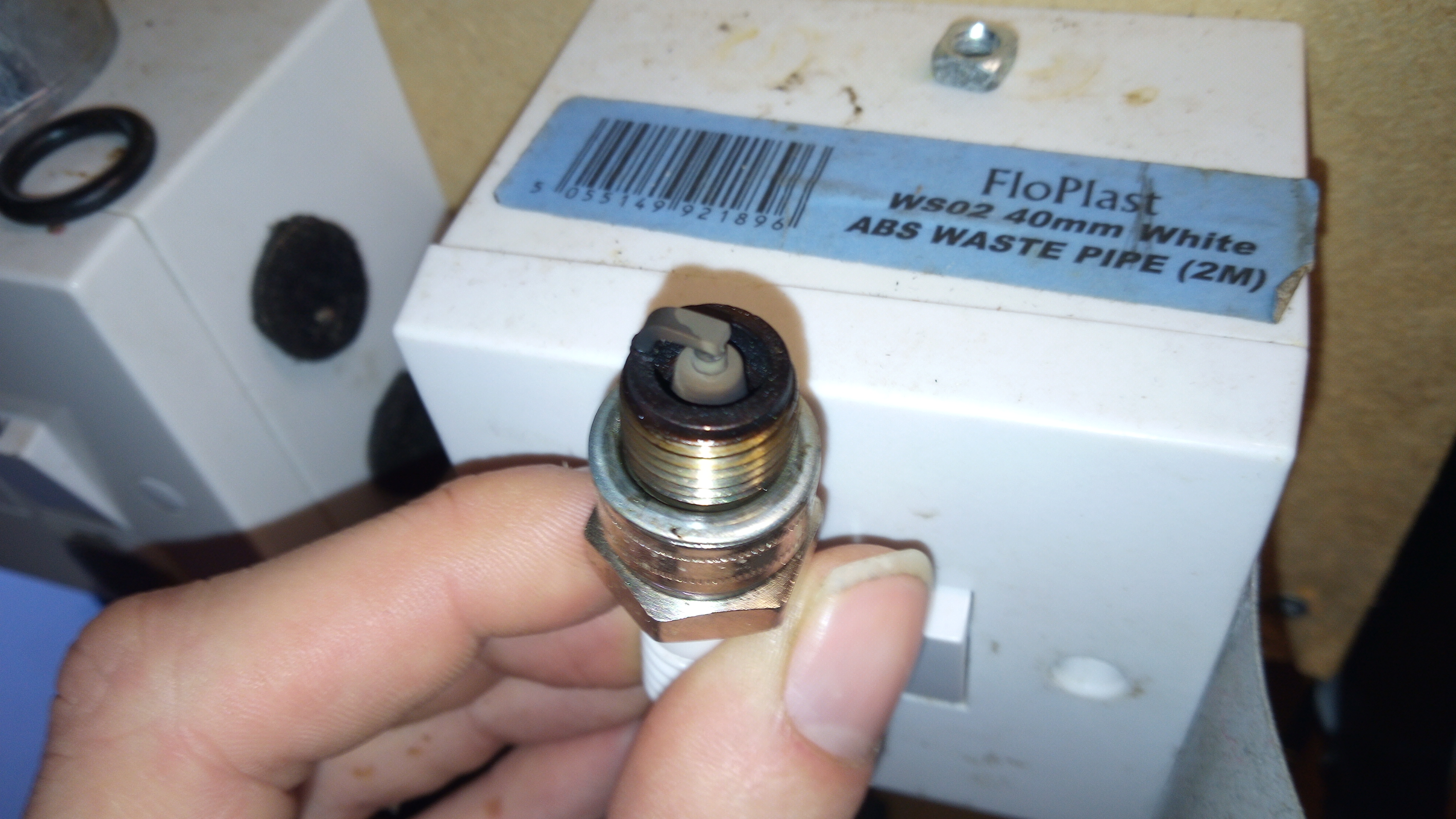 http://dxzeff.com/trash/rawplug.jpg
The spark plug is dirty, but that is normal when running rich, the China kit is set up to run rich too solely to keep the temperature down when pulling the trailer, I do expect such build up and also do expect parts to wear out faster when making these motors pull more weight than they were really meant to. There is a problem, however, the Raw Racer II only ever pulled one trailer and didn't like it at all, in fact short of a one off ride around the block when it was first put on, it never seemed to like running at all and got worse with time.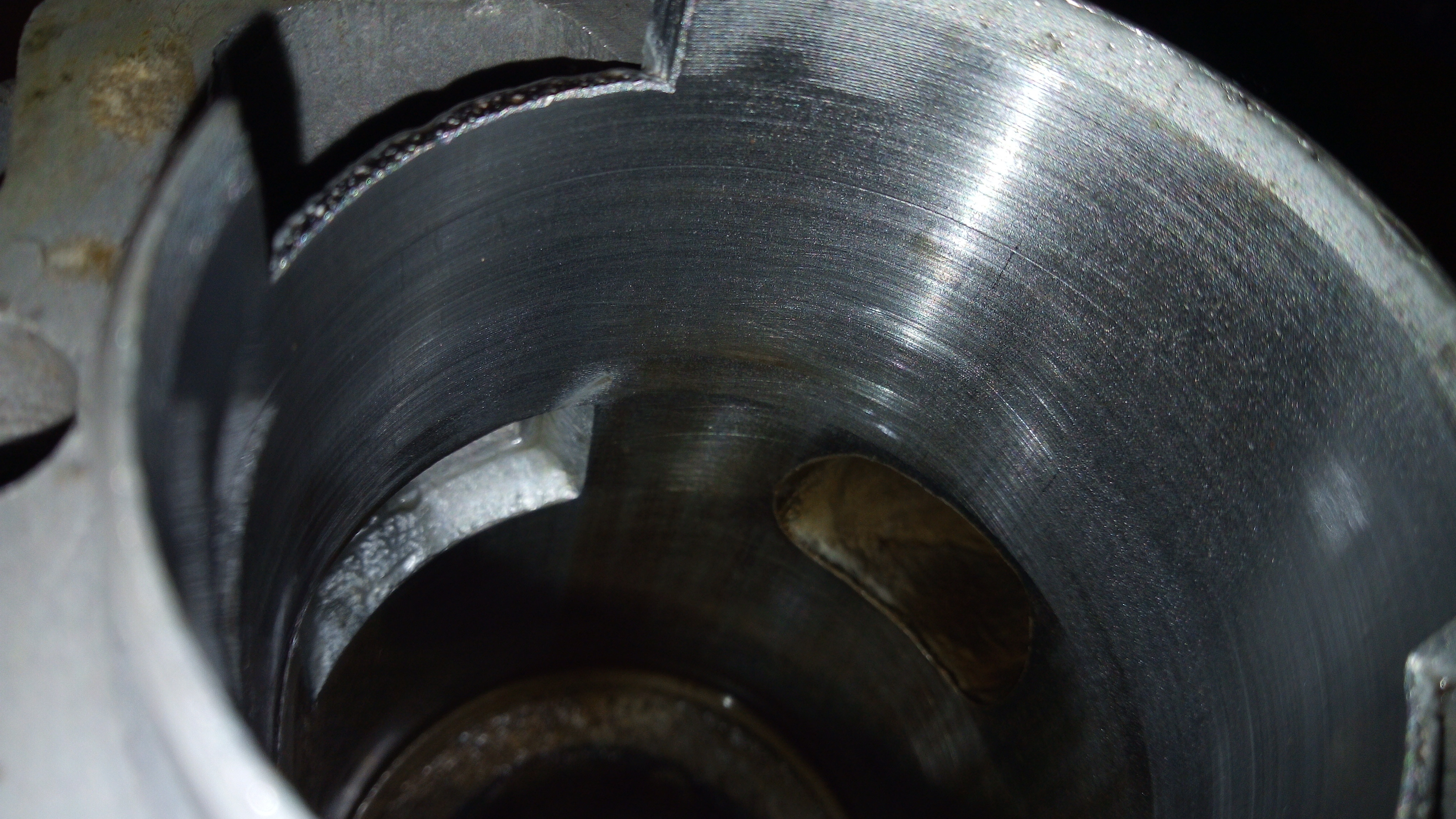 http://dxzeff.com/trash/rawbrown.jpg
http://dxzeff.com/trash/rawstain.jpg
The inside of the cylinder has brown stains and blemishes, I suspect the discoloration to be related to the overheating issue. This cylinder is larger than the 66cc kits, which use a 40mm piston, and instead uses a 50mm piston, by my calculations it is a 79cc engine, but I may be wrong.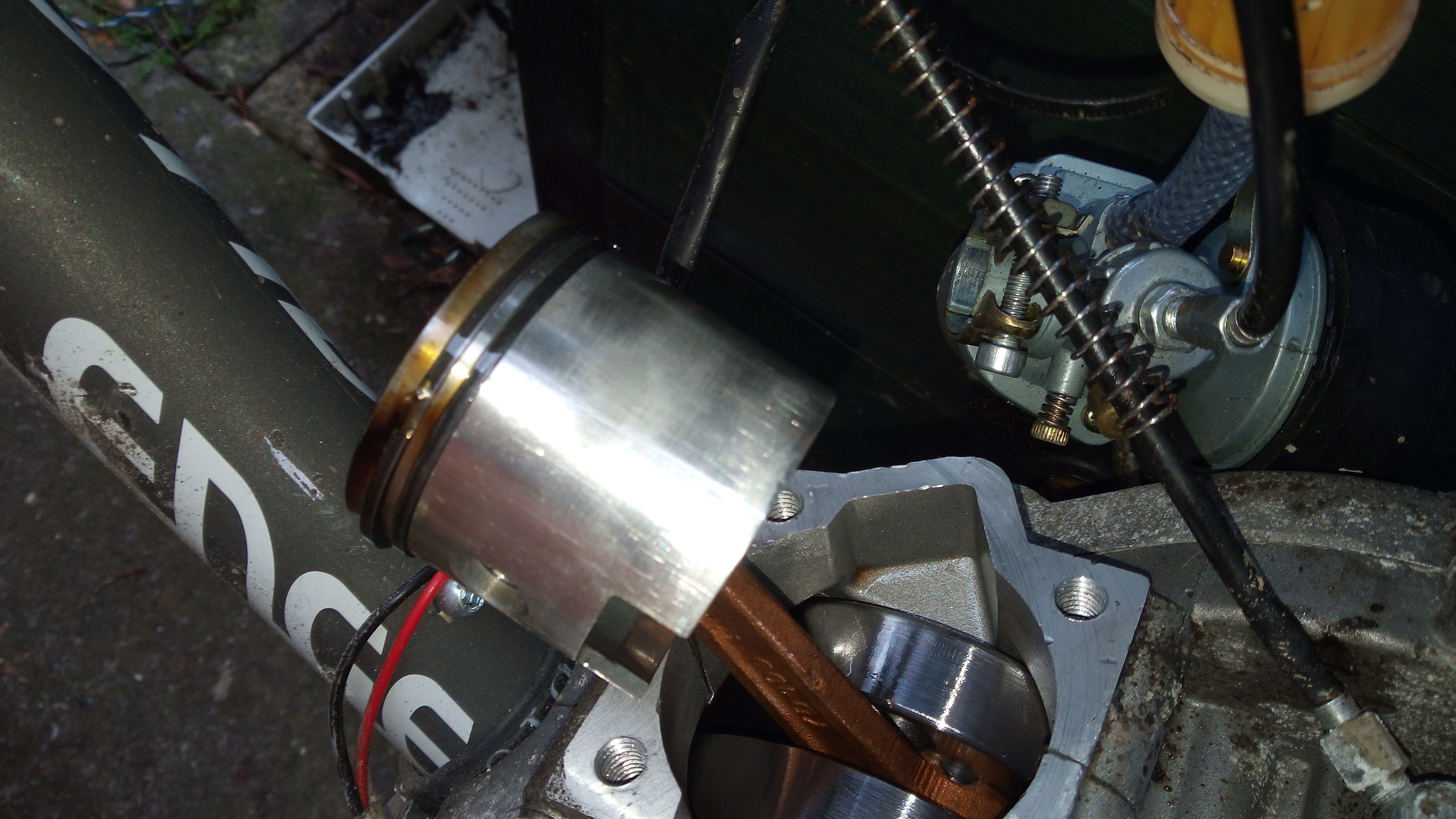 http://dxzeff.com/trash/rawfront.jpg
http://dxzeff.com/trash/rawback.jpg
Piston is rather grotty, no signs of blowby, but there's an interesting little 'pinch' in the lower ring at the back and some light scoring. On the top of the piston those lumps towards the exhaust side are very hard. There's actually a strange 'pit' beneath this that almost looks like something got between it and the cylinder wall, which shouldn't really be possible unless it came from inside the engine and even then I'd expect scoring.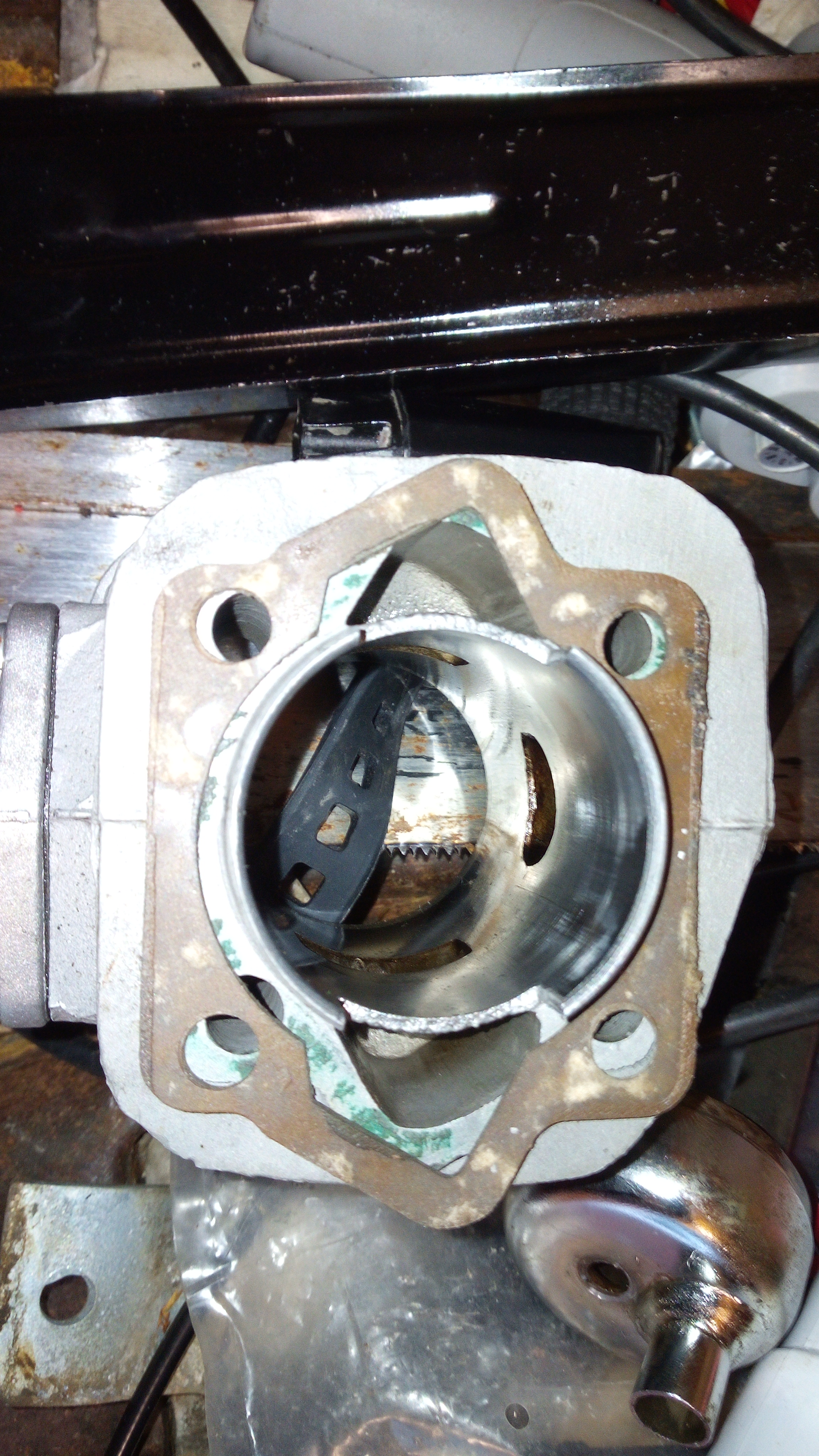 http://dxzeff.com/trash/rawsize.jpg
Annoying discovery, gasket shown against an old 66cc jug makes it evident I cannot install such a cylinder on top of this crank case, meaning not a single part from this kit can be reused - carb, CDI, air filter and most everything else was busted or had problems in one way or another, meaning it was a total waste of money.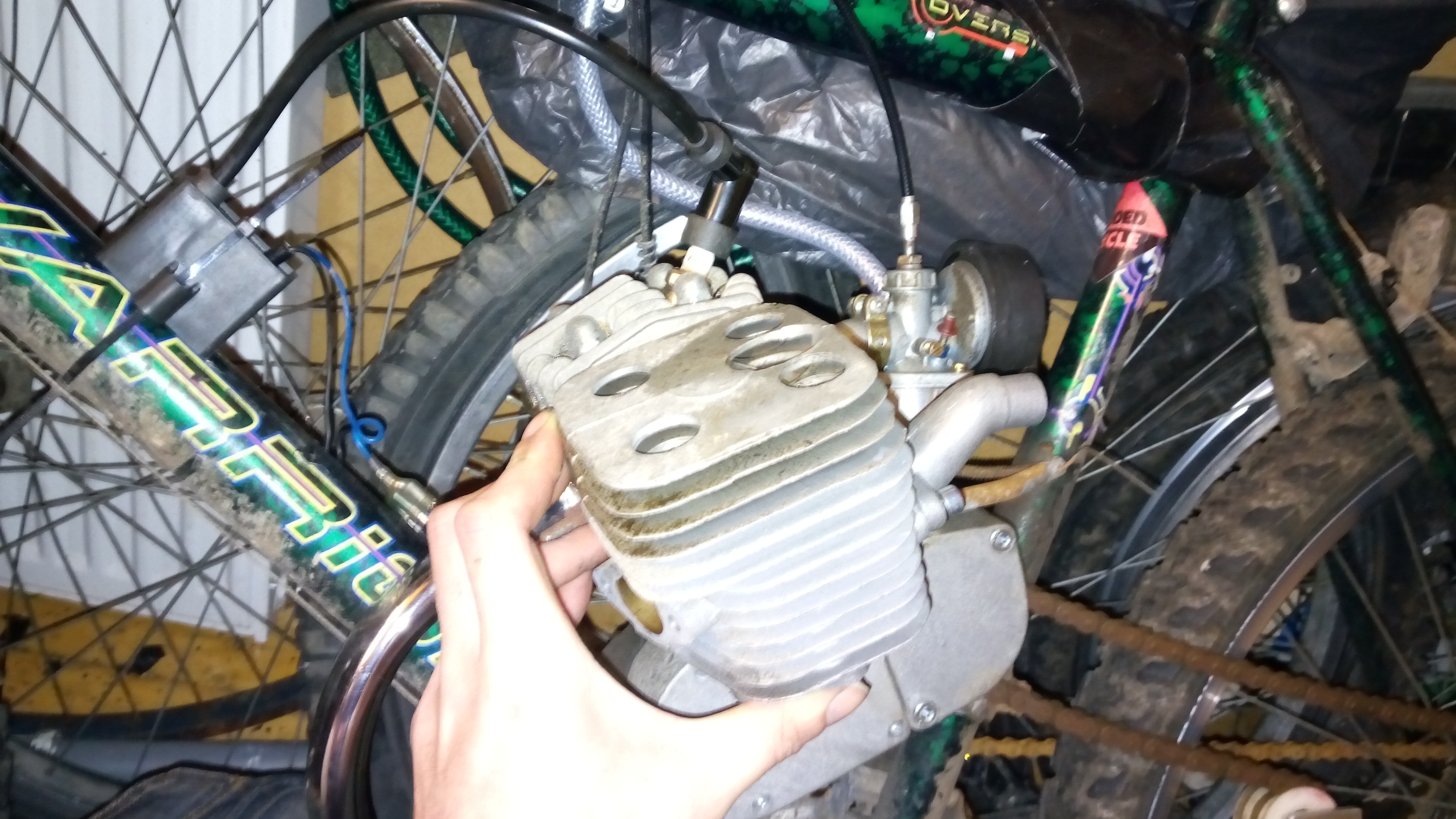 http://dxzeff.com/trash/rawcyl.jpg
Lastly, I'm not sure I buy Gasbike's claim of 'increased surface area' and 'lower operating temperatures' when holding the single piece cylinder next to a regular 66cc one, that might explain those overheating issues
So that's what the Raw Racer II looks like on the inside and how it performs. Sure it might have improved after being broken in properly, but I doubt it and don't even think it would have made it that far, every time it ran there was less power and more horrible noises and smells, a few times there was a crunch as though the gears were being skipped over as the engine would seem to lock up briefly, I never really looked into what the cause was for this as I had already decided it was for the scrap pile by then, unfortunately the camera was on my head at the time and the wind noise drowns it out on the only occasion I was recording. I don't know that the engine would sieze, it shouldn't have done and that may well have been a problem in the reduction gears, but it definitely did feel sickly. Also strangely it never really made smoke as much as the 66cc one, but it sure did smell like nitric oxide really badly and you did get smoke in the wrong place when the oil that built up on the head started to burn off.
All in all I am not even remotely impressed, but I'd be interested to hear if anyone else is running one of these and had a different experience, like was this just a one-off bad kit or is the engine bad in general? I'm not too worried as it's not like I could reassemble it now, not that I'd even want to as this experience was awful, plus I wouldn't be able to get the gasket for it anyway as Gasbike don't even seem to carry it and we established it's larger than the usual models, wouldn't want to make my own. Suppose I should be glad I didn't shell out for the Raw Racer III with even more "improved" and "upgraded" parts included, it would have been more weight for my old one to pull along to the scrap metal bin and my friend with his electric thing would be laughing at me even more, the bastard!
Ah well, cheap kit from China next payday I guess and hope the bearings on my old bike last in the mean time, that thing edged past 2000 miles on the clock a while back and its worn out, long since promised a retirement that never seems to come.
- For anyone who didn't spot my ramblings on other parts of the forum, yes, of course I tried to fix the problems I was having, to the point that almost nothing of the Raw Racer II kit was left by the end. This is why I'm fairly confident in saying the problem lies with the design of the engine itself, because the parts on there at the end are known to work on the other bike, many of the parts which came in the Raw Racer II kit did not work on either bike.
Sometimes I wish I'd not bothered with any of this and just kept pedaling an antique roadster there with no ability to brake on hills or overcome the weight of a trailer if it rolled back, least there were no BS claims and outright thievery involved with that. Seriously, this whole kit and the other accessories were garbage.