Here is a great article with Motorbicycling.com Member Leeny Harp and datz510 in the Arizona Republic.
Thank You Lenny, datz510 and Kerry Fehr-Snyder
Link.....
Riders love motorized bikes; cities aren't so sure
by Kerry Fehr-Snyder - Sept. 25, 2008 12:00 AM
The Arizona Republic
Baby Boomers are fueling demand for bicycles with gasoline or electric engines, even though some cities aren't sure whether they should be allowed on the street.
The vehicles, with top speeds of 20 mph, get about 150 miles to the gallon. Kits to retrofit bicycles with engines start at about $200.
Many lifelong riders who started commuting by bike during the last gas crisis in the 1970s say they need the motorized assistance to offset bad backs and aching knees.
I'm healthy and strong . . . and I found that it (a bicycle) was very usable transportation," said Lenny Henderson, 57, who uses the handle "Lenny Harp" on the online Motorized Bicycle Engine Kit Forum.
"Now I need a little assist because of my back."
Electric bikes are part of a wide range of light electric vehicles that provide an alternative form of transportation amid record high gas prices, pollution concerns and frustrating commutes by car. Riders start their bicycles by pedaling and then the engines take over.
Unlike motorcycles and scooters, motorized electric or gas-powered bicycles don't require riders to have a driver's license, register the vehicle, pay insurance for it or hold a certificate of title.
But because motorized bicycles generally move faster than a traditional bicycle, some cities aren't sure whether operators should be riding in a bike lane or on a city street.
Tempe, for example, expects motorized bicycles to travel in a bike lane, said Lt. Noah Johnson of Tempe's traffic-enforcement department.
"There really is no legislation in the city code in reference to them," Johnson said. "But there comes a point people become a hazard."
Johnson said the department hasn't noticed any problems with motorized bicycles and isn't sure whether laws originally designed to regulate mopeds need to be updated.
"People come up with all these new technologies that don't necessarily meet the definition of a 'motorcycle' even if they're adding a motor to a bicycle," he said. "There's a lot of gray with these vehicles."
Generally designed for one person and small cargo, electric bikes' range, speed and cost are moderate. Most of the trips on an electric bike, known as an e-bike, are 10 miles or less.
The advantages of e-bikes are that they are clean, quiet and efficient.
The disadvantages: buying the right electric kit for the right bike without stressing its frame.
That's what happened to Henderson, who lives in northwest Mesa and commutes 15 miles each way to his job as a security guard. He broke a motor mount on his bike while outfitting it with a gasoline motor.
"I'm not a motor mechanic, but I'm a bicycle mechanic," he said.
No one tracks the sales of motorized bicycles, but the trend in bicycle sales overall has been relatively flat.
The total bicycle market rose to 16.6 million in 2001 from 15.2 million on 1997, according to the Bicycle Retailer and Industry News. Throughout the 1990s, sales averaged more than 16 million bikes per year, including more than 11 million adult bicycles.
Throughout the 1990s, sales averaged more than 16 million bikes per year, according to the publication.
For Henderson, the choice is clear.
"Remember in 1973 when the price of gas tripled in price from 33 cents (a gallon) to a dollar overnight? I didn't know who to blame, but they were saying the Arabs. All I knew was I'm a person who can take care of himself, and I decided I'm going be just a little bit independent.
"Bicycles are the superior form of transportation energy."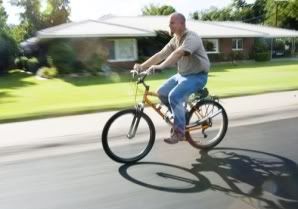 Last edited: