So, at my house, I found this Hiawatha bicycle sitting beside an old shed. She is pretty rusted overall, but the frame is pretty solid. The only rust holes I found, I found a couple holes on the rear right frame tube where the wheel would be. Its on the lower tube that runs right outside the wheel. The frame is pitted, but solid everywhere else. If nothing else, I can add metal where the holes are. I will take the whole thing apart and sand blast the frame.
I am not sure on the model of Hiawatha, but it looks just like the "Shelby Flyer" of the same vintage. I know its prewar by the emblem on the frame, it has the "Art Deco" train emblem instead of the indian head of the post-war Hiawathas. I wonder if anyone might be able to identify it.
Picture is as I found it.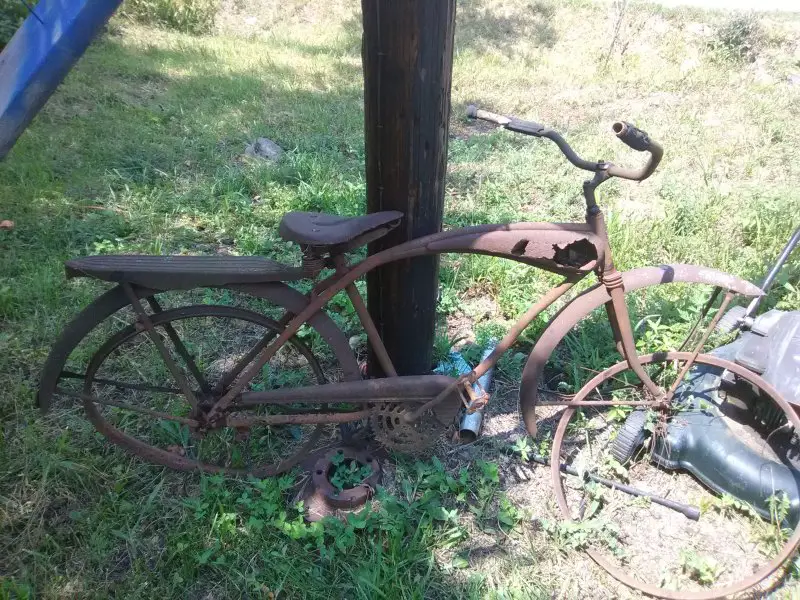 Here are a few questions I have:
1. Is this worth doing, or should I find another bike?
2. Will a Schwinn pedal crank work? The original is roached, and I have one from a 1960's Schwinn cruiser.
3. Anyone know the model?
4. Anyone know where to get bearings for this bike? I figure it's the same as a Shelby.