Chinese HT engine won't start? Well let's see what might be the cause of your problen.
Electrical
1. Improper wiring. Black magneto wire to black CDI wire, blue magneto wire to blue CDI wire. White…either remove or isolate.
2. Kill switch defective. Do not hook it up until you get the engine running. When hooking up the wires, don't pay attention to colors. One wire connects to the blue magneto/CDI wires; the other wire connects to the black magneto/CDI wires.
3. Defective magneto..testing All readings are approximate.
Use Low Ohm-Meter Scale 200 Ohms
Check Ohms between BLACK wire and WHITE wire. 2 Ohms
Check ohms between BLUE wire and WHITE wire. 300-400 ohms.
4. Defective CDI..testing All readings are approximate.
Use Ohm Meter High Scale About 200-K
Positive lead on BLUE wire and Negative lead on BLACK wire
infinite (no activity)
Positive lead on BLACK wire and Negative lead on BLUE wire.
130-150 K ohms
Positive lead on Spark Plug wire and negative lead on BLUE wire.
135-155K ohms
Switch to Low Scale 20K
Measure between Spark Plug wire and Black lead. 2.5 - 2.7 K ohms
Magneto and CDI testing ..
credit goes to 2Door
5. Replace Spark plug (I like NGK's plugs, number depending on your engines condition) also replace the high voltage lead from the CDI. Use a wire core lead.
6. Check for proper timing. At TDC the cut outs in the magnet will be
in the 12:00, and 6:00 position. The key will be at the 1:00 position
7. Do away with the cheap connectors on the magneto.CDI. Replace with good ones, solder them and wrap with tape or better yet heat shrink as I do.
8. Re solder the blue magneto wire. Have seen cold solder joints from the factory. I change the wire to a better grade and to a 16 gauge.
Fuel
1. Clean fuel tank, and screen filter (in the tank) out. Tanks have been known to have trash in them.
2. Install an inline fuel filter. One might not be included in the kit.
3. Carburetor piston, check for proper instillation.
4. Carburetor to intake manifold leak. An "O" ring installed can help solve this problem. Check manifold gasket.
5. Ensure that the internal components in the carburetor are installed correctly and not loose. Later you might need to adjust the needle (attached to the carburetor piston…5 different positions)
6. Ensure the float operates correctly and the needle seals off the fuel flow through the seat.
7. Tighten bowl screws.
8. Screw on the NT carburetor only adjusts the idle.
Compression
1. Blown head gasket. Mill head replace gasket
2. Broken rings. Replace rings/piston
3. Leaking seals on the crankshaft. Replace
4. Spark plug not tight or threads stripped.
Vacuum Leaks
Shouldn't cause a no start problem, but can cause a RPM issues.
If you don't have a Volt/ohms meter, I suggest you get one. Harbor gives them away quite often. I have gotten 4 of them. One in the house/garage/5th wheel and in my truck. ALL FREE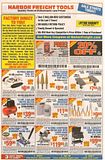 Looking for any other causes that will lead to a NO START problem. Please don't make this a sticky till its finished...
Last edited: