Here are a couple bikes I built this summer. I like to try different things mechanically.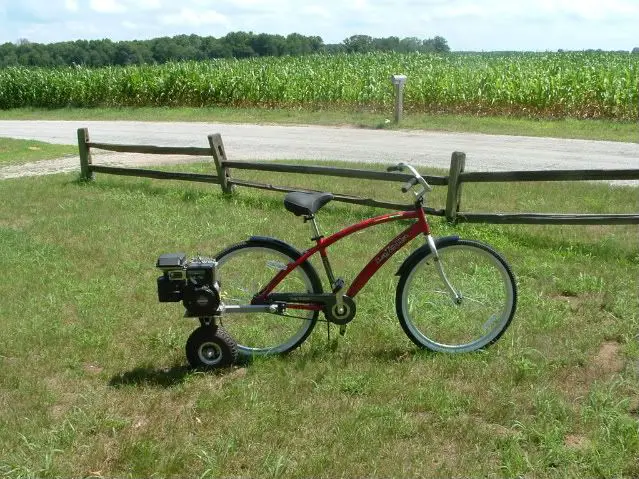 This is a 26-inch " La Jolla cruiser" from Wal-Mart. I chose it for it's coaster brakes and no cables, gear changers etc. I like a clean look. It is an aluminum frame, which is a bonus. I used a 3.5 hp Briggs & Stratton engine. A go-kart style centrifugal clutch was used with #35 chain. The "side pusher" type design track's very well. The small tire takes all the weight of the engine so it doesn't feel heavy when riding.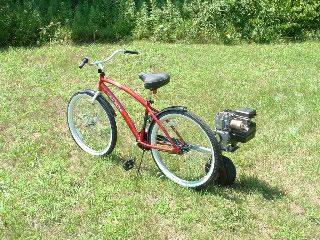 These photos were taken before I installed a twist grip mini-bike throttle and a handle bar mounted kill switch.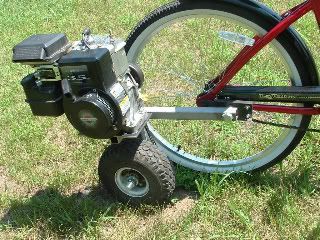 The motor assembly pivots where it mounts to the bike. You lean to turn just like a normal bike with two wheels. The wheel-motor will move in a scissor type action as you lean.
The bike will let you know if you take off to aggressively. The lack of weight on the drive tire will cause it to buck and bounce wildly. However if you give it 4 or 5 quick turns of the pedals then keep a light hand on the throttle she will buzz along at about 24 mph for miles and miles. More on the other bike later. MM
Last edited: