Oct 21, 2008
1,301
264
83
Hello,
It's been quite awhile since i've finished anything or started something new, but here we go- Rätte-Hengel;
My friend Chris recently ask me if i would build a Ratty vintage bike for him. He initially sent this picture of stuff he mocked up himself on his garage floor-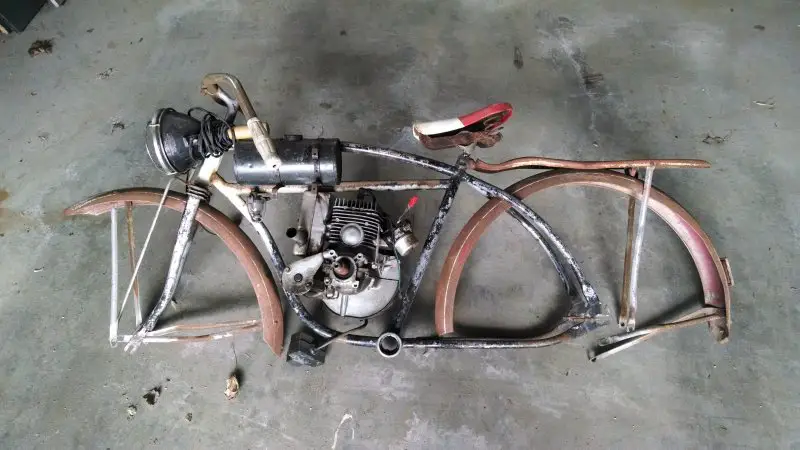 His mandate for me was build something Ratty, or perhaps even post-apocalyptic. He would supply all the parts new & old. He doesn't even want to see any progress photos until all done and running, he's a very creative guy so it surprised and flattered me that he didn't want any input.
I like to name all of my projects and because of his Dutch heritage i'm calling this one "Rätte-Hengel" which is probably actually a bad Google translation of "Rat Rod". But hey it has a nice poetic flow in English. LOL!
Chris is a flea market king and always seems to have a lot of interesting vintage stuff on hand, along with the frame in his concept photo he sent this big pile of stuff to work with. We agreed to also use that big old white Tecumseh 5HP engine shown here instead of the little 2 stroke snow thrower engine that was in his original photo.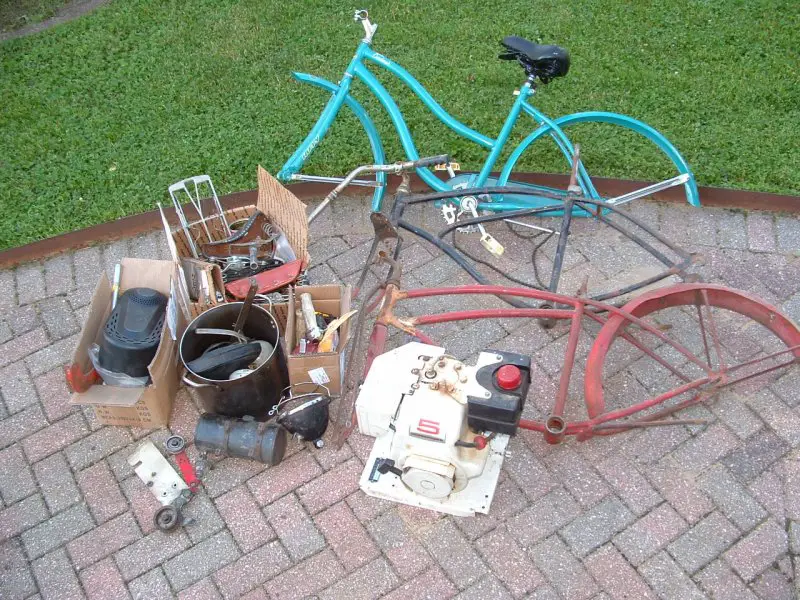 But sadly i didn't realize the pto shaft had been cut short and wouldn't work with the Torue-O-Verter CVT I was planning on using until i started taking tins off. So I ended up buying an inexpensive CX200 Honda clone from Harbor Freight and tipped it upright for effect. Perhaps it's just as well since there will be less risk from an vintage engine of unknown internal condition.
Because he is such a creative person i suggested that he could be responsible for distressing a new engine to match the rustiness of the rest of the bike, and i thought it might be a good idea to somehow give him some sort of input. But when my wife was throwing away a old coffee maker i couldn't resist using this stainless steel tray, it fits the shroud just like it was made for it! Coffee stains to remain while under my care, Ha!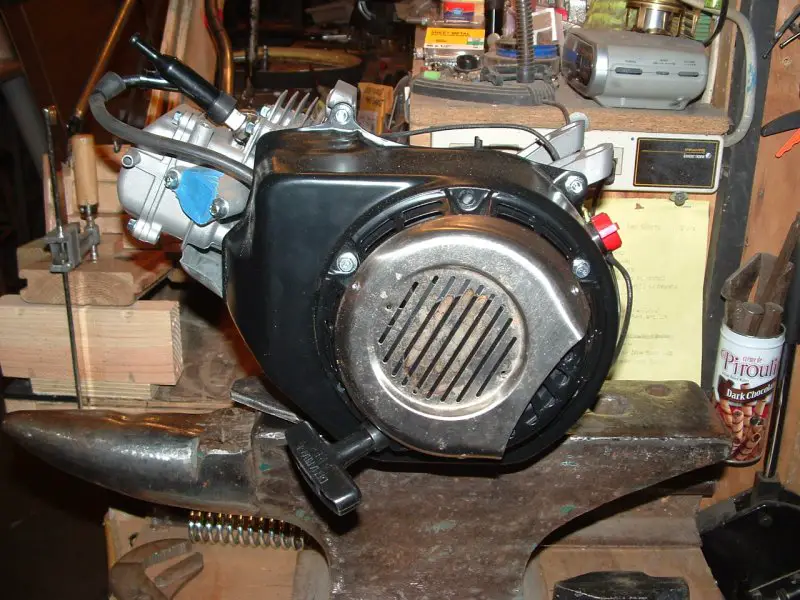 I decided to use the same frame that was in his concept photo, but to stretch the rear triangle out about 7 inches. I feel adding length to a old bicycle makes it feel a little more "man-sized" and comfortable to ride, and I think it just looks better too. I don't have a proper aluminum frame building jig so I just cobbled up my own with some old wood...
Before the cuts-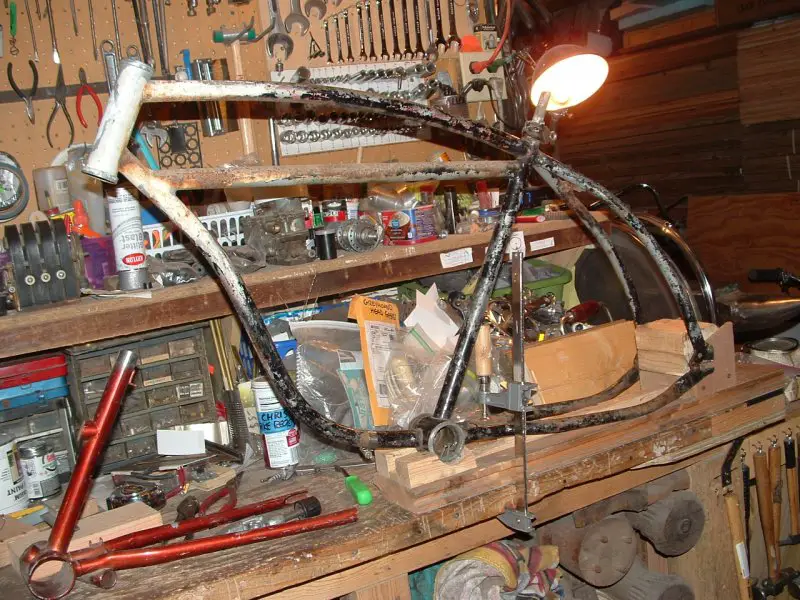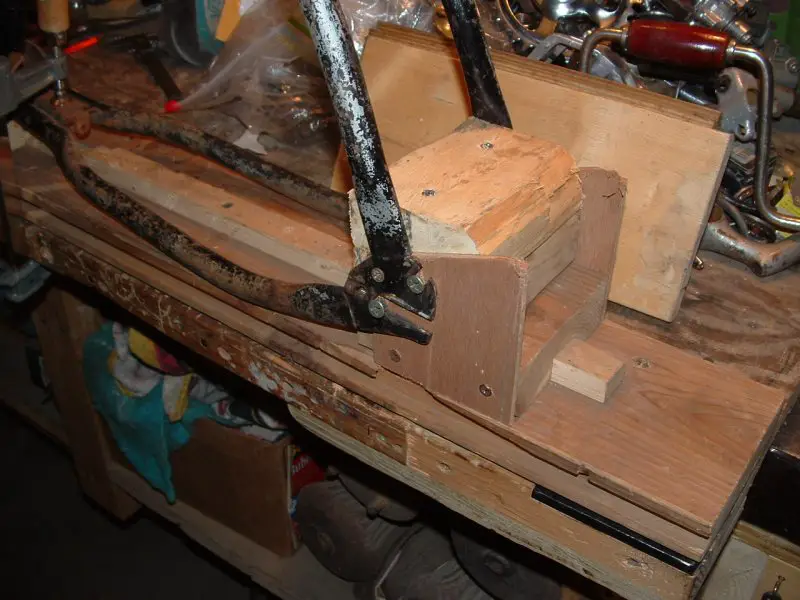 It's always a little scary to cut a vintage frame so I only hope that I'll do it justice in the end...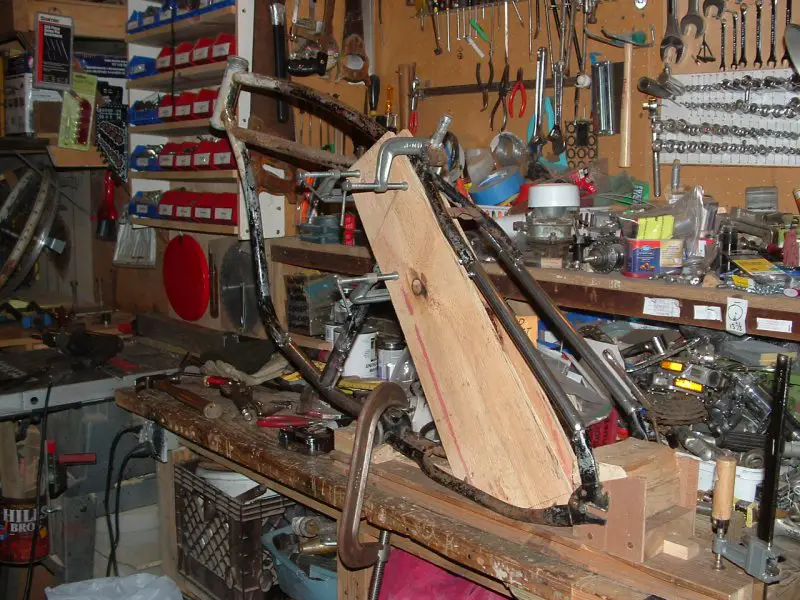 Because this build will only have a single brake I wanted it to be substantial. I'm going with a vintage Honda CB350 rear hub (I think that's what it is?) and had to widen the rear stays nearly 5 inches to accommodate. I put solid rod inside the cut stays to beef them up, make it easier to get kink free bends, and it also helps to have a little extra meat while welding...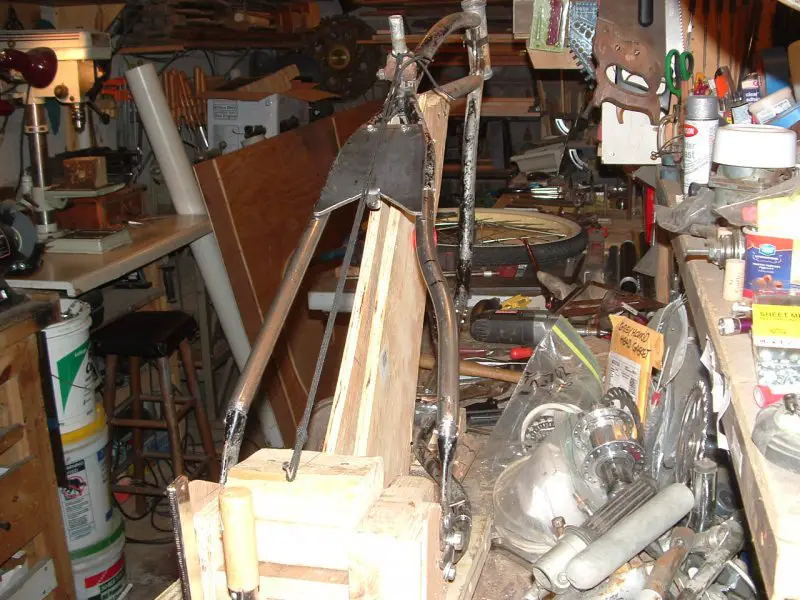 Also because this will have a powerful and heavy engine I've added several and very stout gussets throughout. The rounded one above the bottom bracket is 3/8" thick and will carry a jackshaft. And all new and any old tubing near the engine is reenforced with generous lengths black pipe sheaves internally...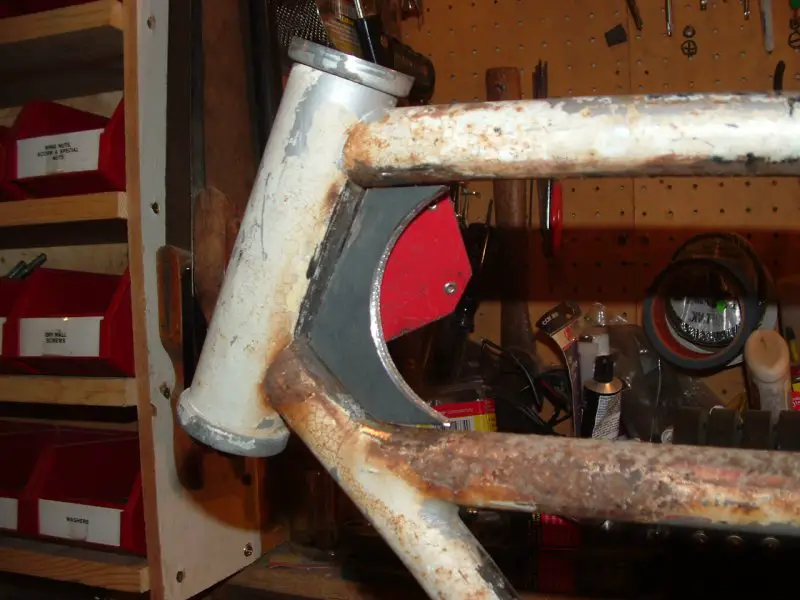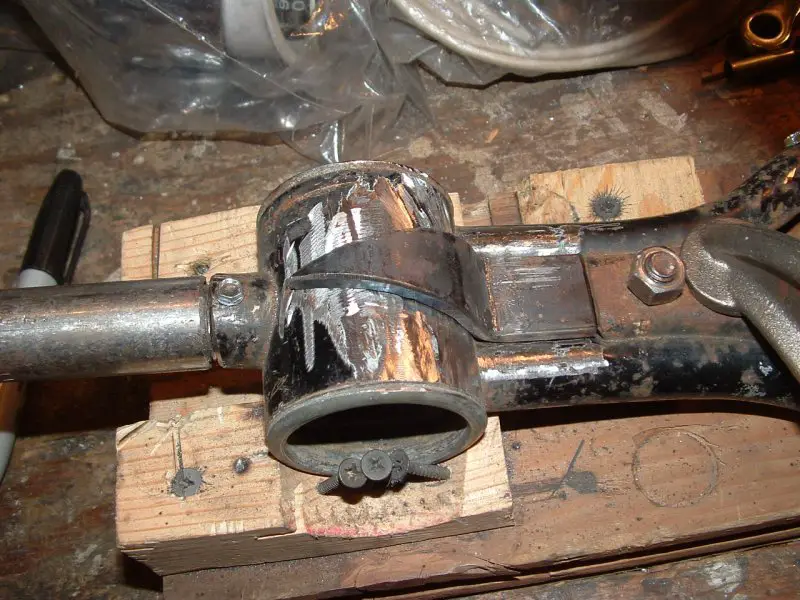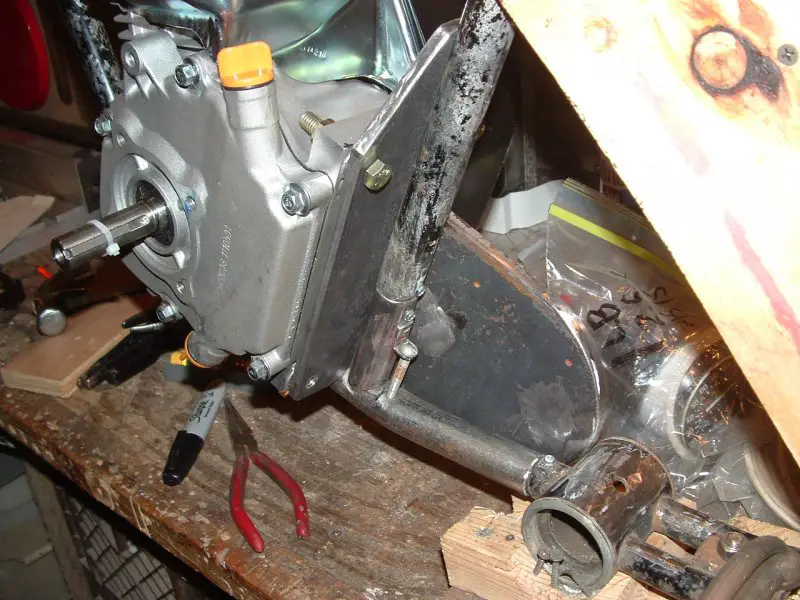 Welded!
To keep this a actual pedaling bicycle- I cut the treaded end off a BMX style freewheel hub and welded it to a triangelur plate so it can be simply be bolted right onto the Honda hub.I also decided to repaint the donor wheels. I don't mind mixing a few odd colors in, but they were a truly awful shade of yellow (seen in the background of some of the frame pics). Plus i think the red really pops!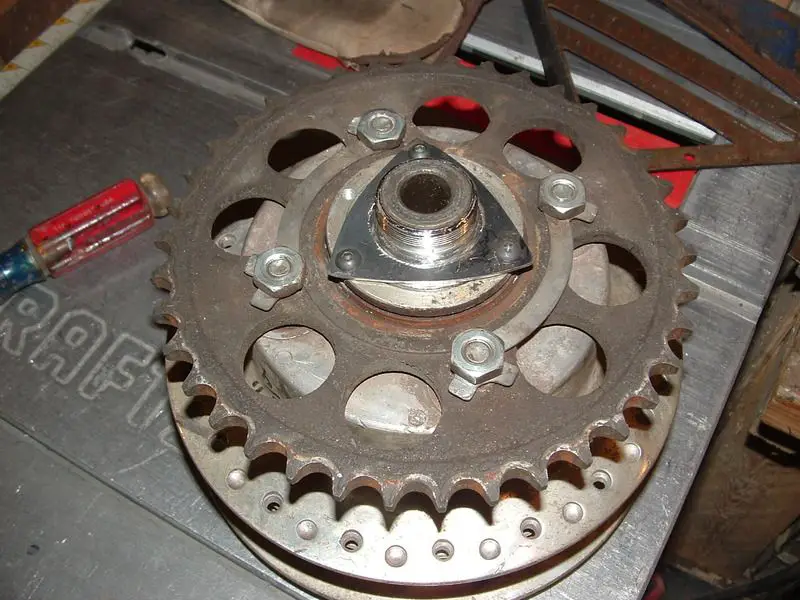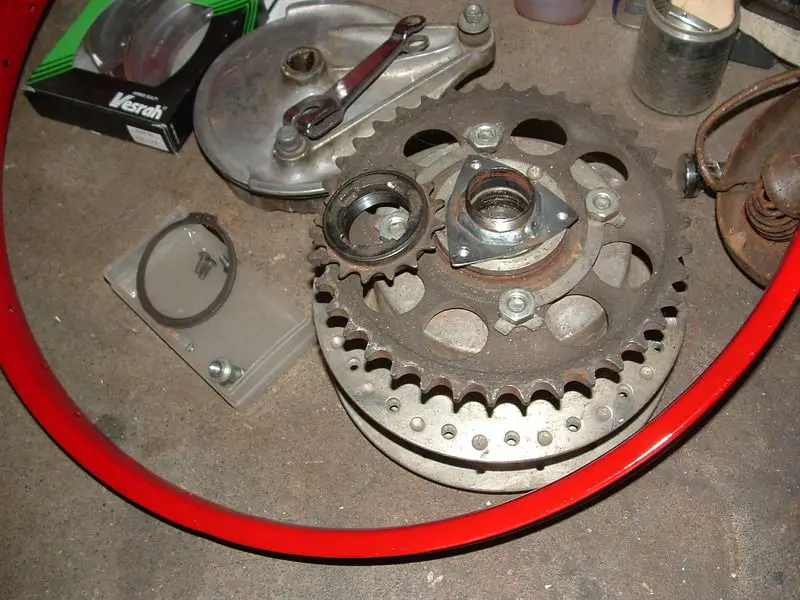 To get some real leverage for a motorcycle sized drum brake I've modified some old worn out Visegrips for the handle. And By dipping the vintage original white grip in boiling water for several seconds I was able to force it over the slightly larger throttle body without splitting it...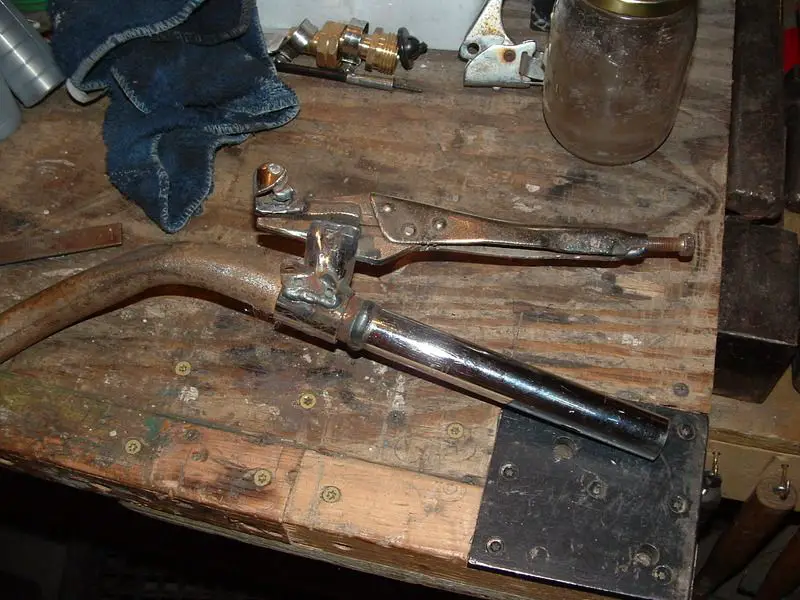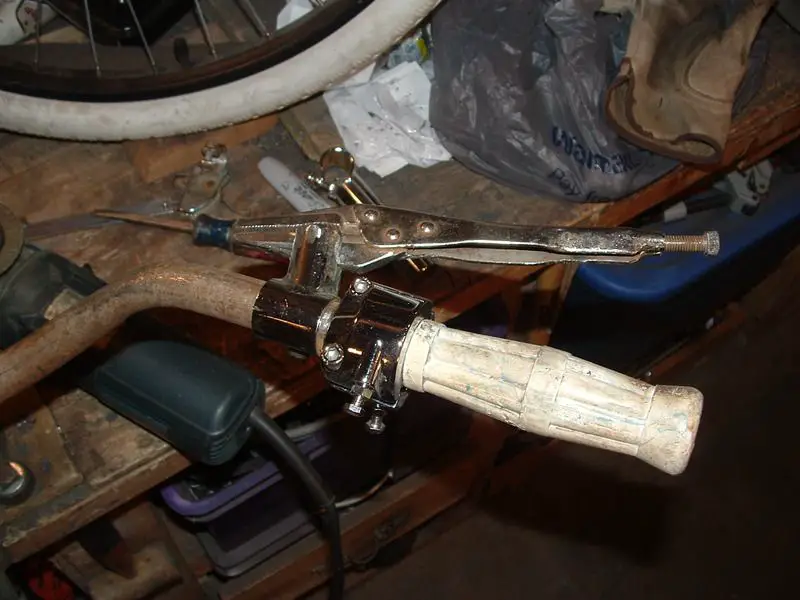 7-21-17 Edit: Just replaced as many of the broken Photo Bucket links as allowed...
Last edited: