So I've been debating on adding a throttle grip assembly on this upcoming month but there is a few things that stand in my way,
I have a older flat head with an air vane as represented by this image illustration.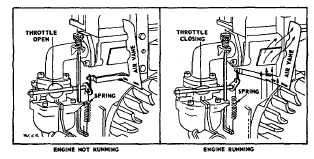 To the left of the segment shows the engine at idle and to the right represents when driving.

The underlying issue is if I install a common throttle found on mopeds, scooters, and motorcycles I would need to develop an opposite leverage that draws the vane close via
spring
to pull the throttle back to its closed position without fully effecting then vane.
I would also need to develop a bracket that comes
up to the top of the motor
as the specs are
reversed
accelerating the speed of the motor.
In the current position pushing the factory lawn cable "in" accelerates the engine which pushes "up" the butterfly & vane.

The object of this post is where or what spring can I attach from the cable holder plate to the linkage which operates the butterfly and vane without applying full tension but will allow the engine to idle up when needed.
Once that is set up I can properly attach a cable under light tension which allows throttle cable play enough to not effect the vane at idle.
Looking for ideas cannot be too weak but not too strong.....
I will take measurement of the distance from the linkage opening slot to the control cable factory mount area sometime tomorrow.