Bonneville Bomber the Salt Flat record breaker
Jun 25, 2009
1,829
423
83
As many of you know my Bonneville Flyer model has been raced a number of times on the Bonneville Salt Flats within the SCTA racing organization. My brother and I do not get out there every year, and sometimes after a huge effort with testing and travelling we get rained out. That's what happened last year, where I made a record pass in the 100cc category, only to be denied a chance to back it up because of rains. My 250cc was running well over my earlier record of 80.438 mph at a solid 86 mph and I never even had a chance to run it before Speed Week was cancelled. That's racing. I simply cannot race every single year and this year was no exception. Fortunately I have sold a few bikes to other teams. This year the Stone Mechanical team put in the necessary effort and absolutely hammered my old record and I couldn't be happier! The new record in APF250 (modified production, push rod, fuel) is now 87.296 mph and at one point the bike reached 90.397 mph! They accomplished this at only 7800 rpm due to valve springs that were too soft. Given a bit more tuning I can see these guys reaching a two pass average of over 90 mph in the future. Like I said, I couldn't be happier!
To date there are 17 Bonneville Flyers of which 5 or 6 have racing history with SCTA log books. Here is a picture of Bill holding his time slip and standing in impound with Bonneville Flyer #3.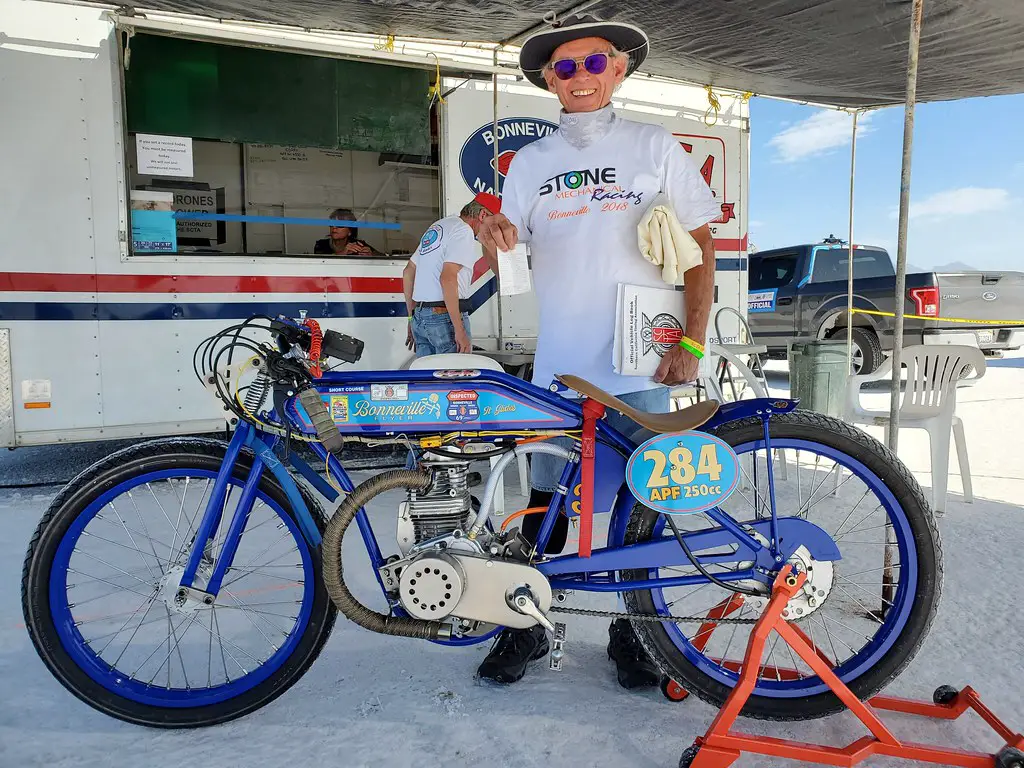 World Finals
by
Pat Dolan
, on Flickr
Getting ready to run behind Poteet Racing LSR car that run 480 mph.
World Finals
by
Pat Dolan
, on Flickr