Hi, guys. I started with a regular Felt Cafe that I bought from a friend. I am not really a bike guy, but the 100$ price and the beautiful design convinced me. I didn't know much abou bicycles having only ridden cheap MTBs before. It had the original double crown fork and a 3sp Sturmey Archer coaster hub.
I got tired of the uncomfortable seat and lack of any suspension in no time.
So the first upgrade was a Lepper seat I found at the flea market and from there things escalated quickly. Decided I wanted the seat lower, it turned out it needed to go further back as well. Well, one thing led to another, then I needed longer handlebars...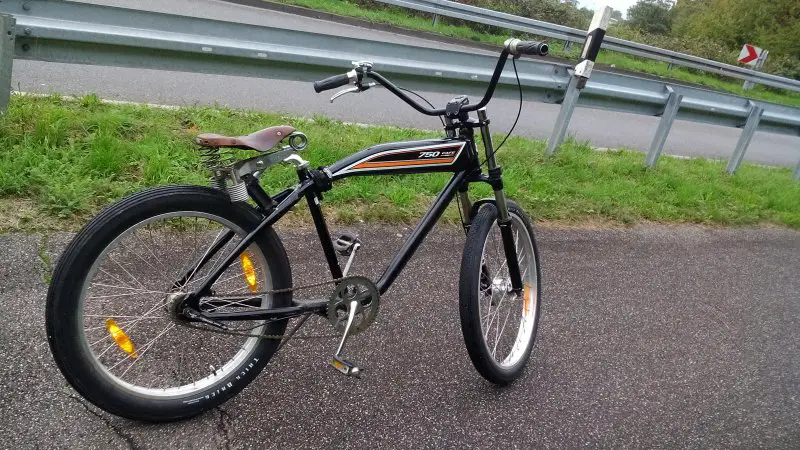 I installed a nice air suspension fork. I cut the original fork and used the upper crown with parts of the pipes to emulate the look of a "motorcycle" fork. I was told by the LBS that the bike could not be electrified, but hen I found a picture of a mid drive Felt, so I knew it was doable. My research led me to the Velodrome's Reverend "Iggy" cruiser and after that it was easy to do the rest. The motor is the well known Bafang BBS01 250W.
I had my wheels relaced - I got a 3sp Shimano with a roller brake in the rear and a disk in the front. Then installed the motor and somewhere along the line I got this big front lamp.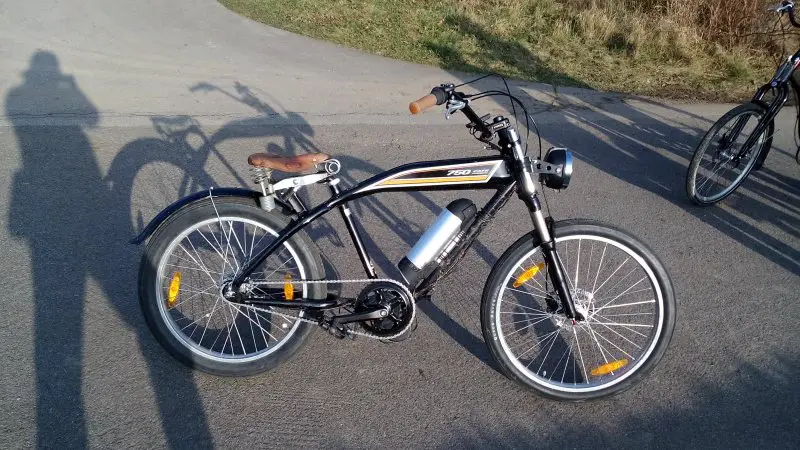 In order to move swiftly I put a 52t chainring and combined it with a 16t rear sprocket. Thenn it was all just palying with different bars, stems and seats...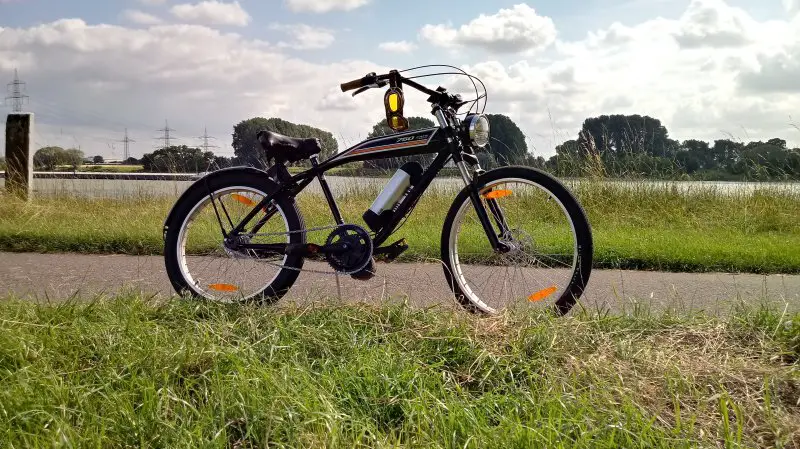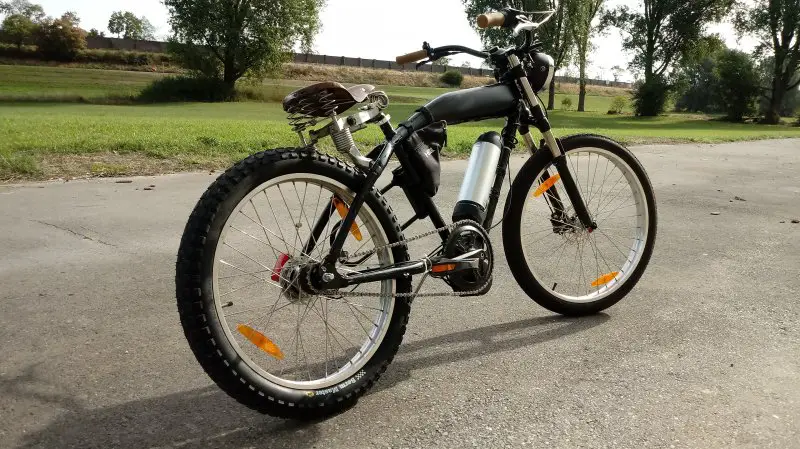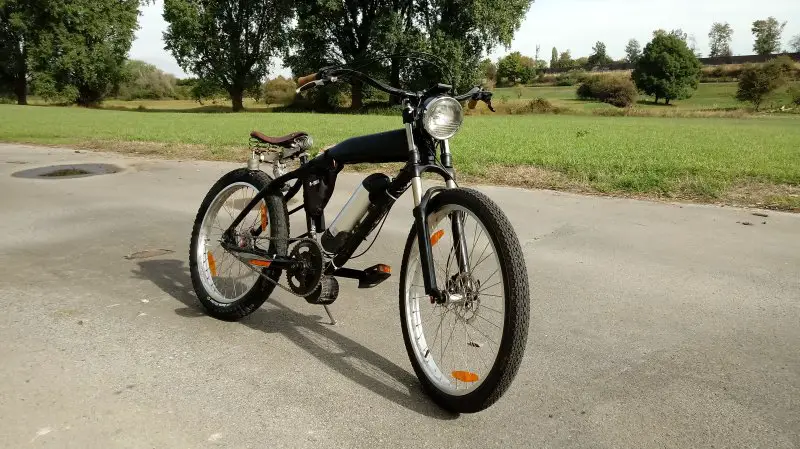 I was finally able to score a real double crown suspension fork. I had new wheels laced, this time with a 7sp hub, which allowed me to go back to 46t chainring and a 18t rear sprocket, since I finally have the gear range I need to both climb and cruise. Used the opportunity to switch to 24" in the front and black rims which make the wheels look even bigger.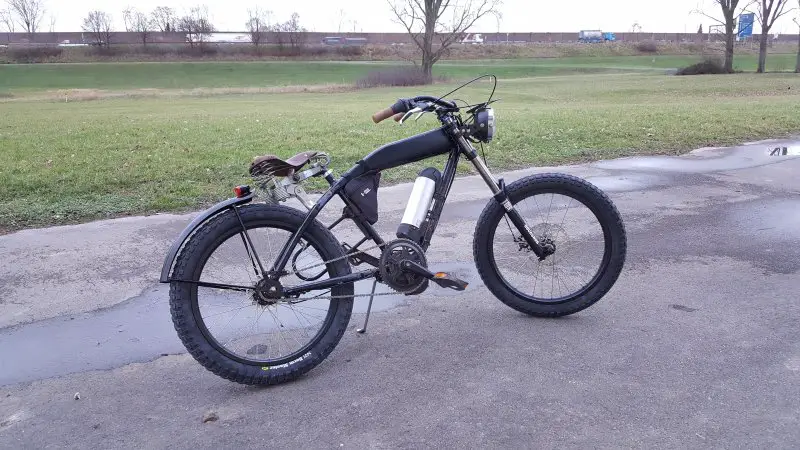 I finally made Felt logos for the battery.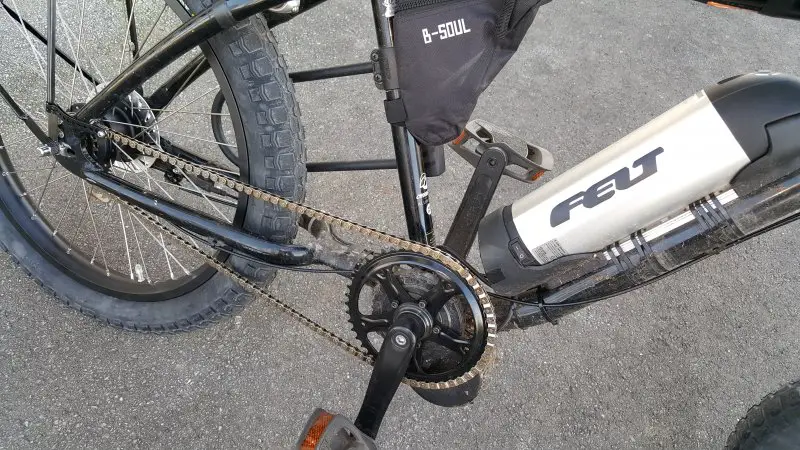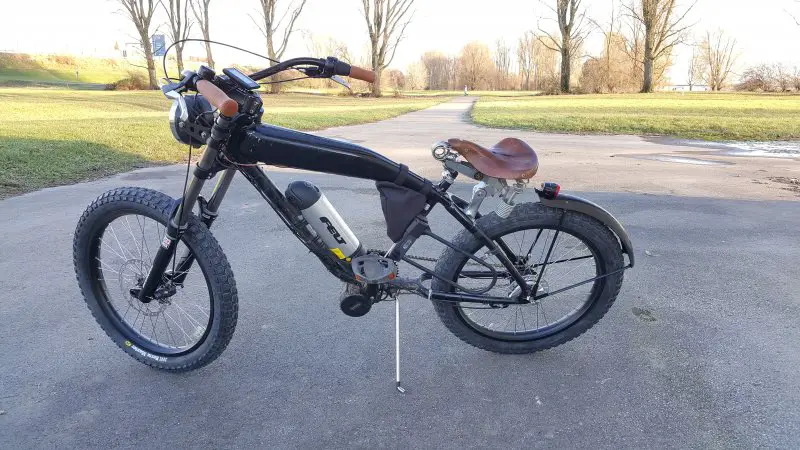 I would have to think for a more elegant solution than those zip ties for the battery, but they actually work pretty good and hold it very securely in place. It doesn't move a milimeter.
Here is comparison of the seat setup in the two position one could use:

Watching at this thread I am very amused, since it reminds me of a computer game where You upgrade Your mashine with better parts and each upgrade takes more time to get LOL.