Hey guys, I know it's been a while since I posted here. Ive been working on that mongoose with that 79cc predator and shift kit a lot lately, and just wanted to share some updates:
I've removed the transmission plate that comes with the kit to reduce friction and noise. Ive also moved the 23t sprocket to the jackshaft, and am replacing the current cassette with one that has a 42t-11t range. The stages are now as follows:
10-23
9-44
36-38\11 soon to be 36-42\11
I have also moved the exhaust pipe through the center of the rack to clean up the look some. It certainly looks better and more thought out.
I have gotten a new carb with a slide, but need smaller jets for it. The ones it came with either seem to be too large, or the same size (65-85, increments of 5, same amount of exhaust smoke, other than the stock jet). Regardless, throttle response has improved.
I finally sanded down the cylinder head. There turned out to be a gouge near one of the pins, so I sanded with 1000 grit paper and cutting oil until that was gone. Compression has definitely increased. I can feel it in the starter rope. Along with the head sanding, I replaced the valve springs with 18lb springs. I will soon replace the pushrods if I can find em, just to be safe. The lifters shouldn't be an issue.
I will be fabricating a fairing for it. On this fairing will be a speedometer, a tachometer, and, of course, all the switches I don't need on the handlebars, such as parade lights, headlights, and ignition switch. The kill switch, high/low beam switch, horn button, and turn signal switch will be on the bars at the grips.
I will also be building new wheels for it. I am going to upgrade the tires to maxxis hookworms (so I can have a chicken strip. Like seriously, that tread is almost halfway down the sidewall), and use a 36 spoke double wall mtb rim, and of course, mtb hubs. What can I say, mountain bike wheels are built for abuse.
Oh, I almost forgot about electrical. The last post I made, I was going to put an alternator on it. I've since ditched that plan. Instead, I'm just going to attach a quick connector to the battery for a trickle charger. That keeps the build cleaner, and lets me plug it in wherever I find an outdoor outlet, or can run an extension cord.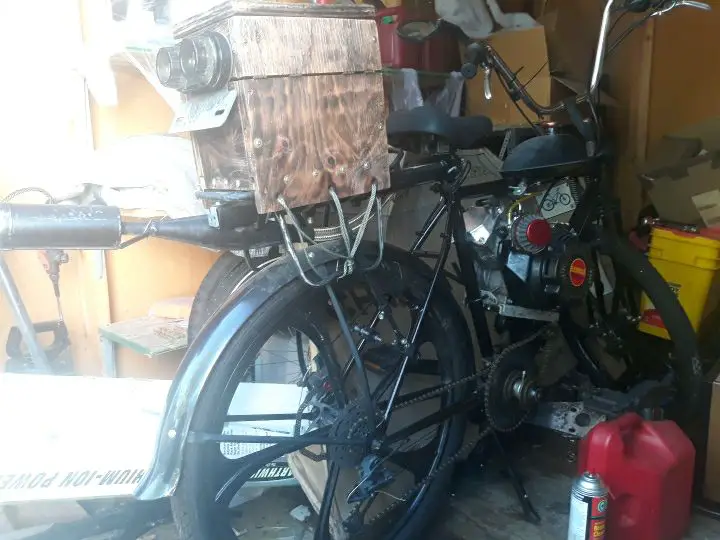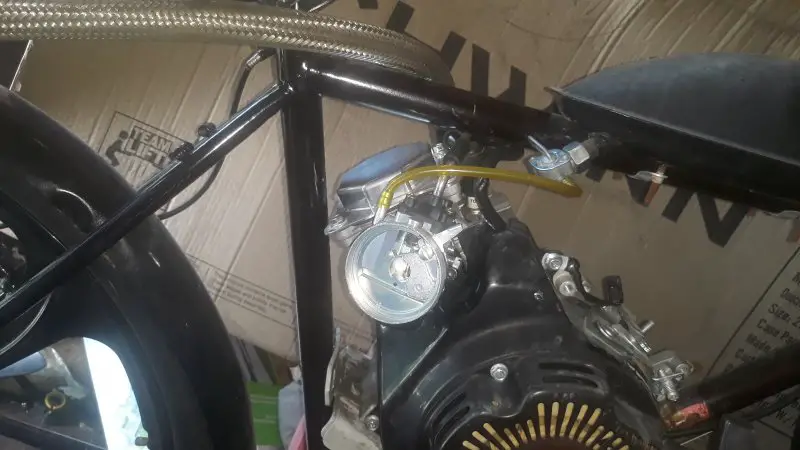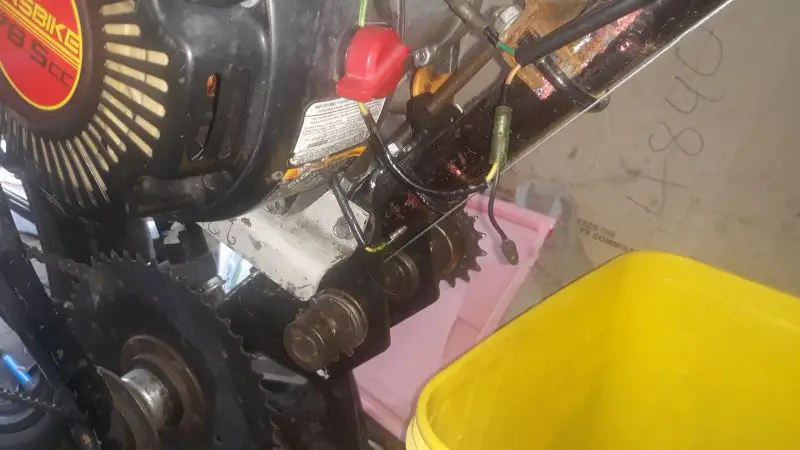 Don't worry about the paint damage. That's getting replaced. I'm having the frame chrome plated so I can add a transparent emerald finish for that anodized look. The headset, tank, and fenders will get a green metal flake finish. The box is getting retorched, and sealed with high gloss spar varnish, and the seam will be sealed using black silicone caulking. Oh, and that little bottle opener on the box? That's getting a green LED put behind it.
All in all, it sounds like a small motorcycle now, when it just sounded like a lawn mower before. It is also beginning to look a lot cleaner. I just have to reroute the cables and heat shrink them together.