Enlarged hole where water bottle attaches to tube. Photobucket down, will attach picture later
OK here is a picture. The tube was cracked all the way through, as you can see a check separating the tube.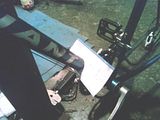 This is one of the bikes I had stored in my garage for the past 10 years. The frame is made out of steel (thin at that).