Welcome...Since you are new to MB's, may I suggest latching on to a bicycle that will fit as (has to be a 2 cycle $$$) with special frames you will run to (I think) more then you can bite off.
Here are some mounting ideas..
Engine Mounting pictures by Ron-Becker - Photobucket
Keep in mind a optimal "V" angle is 75 degrees.
Here is something that might help.
Pre build and engine modifications.doc
It's just not buying one and throw it in a frame, unless that is if you want it to last. And for goodness sake... It took me about a total time of over 10 hours (spread over 2 days) to put this piece of work together. And I'm a experience mechanic. Yes there are some Ebay sellers I wouldn't buy a nail from.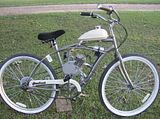 Total cost just under $300.00 w/new bike. These are all with mods that I do or make.
Mikes HT bike pictures by Ron-Becker - Photobucket