Quote:
Originally Posted by
redneck82
...and they had already patented the same style of jackshaft that we were thinking of using.
Bah - only a few steps up from the wheel as a concept, a "jackshaft" is in general such a simple, common & long standing design that unless you bought one from them to copy it
exactly
, specifically to resell, you're not infringing a patent any more then they have. Build what you will I figure.
If you've investigated DIY jackshafts you're likely thought of something like this anyway but:
http://motorbicycling.com/showthread.php?t=12284
(chk whole thread, it evolved). Inspired, I adapted the concept myself for another build, it's essentially just 5/8" keyed shaft, a coupla 499502HNR bearings, stop collars, sprockets & a "BMX" style freewheel cog - there's no specialty parts & it's pretty straightforward;
pedals:
http://youtu.be/U10xLqTekOw
engine:
http://youtu.be/_GTS0xG8BPM
...as that one is on a tadpole trike, I used the rear stays' bottom bracket with sealed bearings pressed in, Russell's (linked first) is the same thing just with pillow block bearings, same deal otherwise tho & the taddy's runnin' a horizontal Honda CRF clone, similar to the Motoped;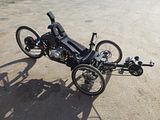 ...I dunno if you've considered it or not but just in case - if you're thinkin' on DIY jackshafting, I'd have to recommend avoiding the pedal crank freewheel design if at all possible, the ones often found as kits like this;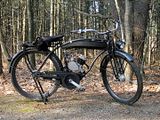 The "kits" are great for those without fabrication experience or resources but unfortunately there's some long-term reliability issues with that bearing location, regardless of the quality of the bearing. After a couple few thousand miles pounding on the shift kits & the DIY version, the DIY one is not only cheaper but far, FAR more reliable - best yet should the BMX type freewheel actually fail (mine hasn't yet, knock on w/e) it won't leave you stranded like the pedal crank one does and they're inexpensive & commonly available in any case. As the horizontal four strokes are generally more powerful then the in-frame two strokes, this would only be more a a concern.