There are a LOT of factors to consider when figuring a site's ranking, Google placement is ofc part of what contributes to new visitors - but doesn't necessarily make for a popular site (you can ofc buy your way to the top). Members and their continued activity are paramount, so it's you guys that make this forum what it is

I'm a webmaster for an eCatalog by day (raging motorized bicycle fanatic alla time lol), so this is something that occupies a disproportionate amount of my time, it's a complex subject and no any one data source accurately reflects the relative health of a site. If yer curious, one of the most valuable tools I use is 'Alexa Web Information' which gives you a pretty good idea of how any website is doing, it's demographic, and allows you to compare other sites and trends.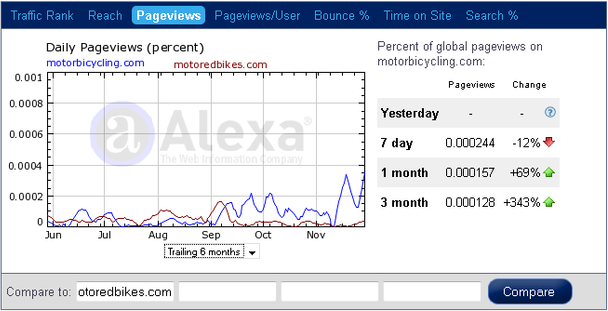 I'm not too concerned about that "other place" lol, I've never even checked it out - the main reason I'm mentioning this is I heartily recommend getting the Alexa Toolbar/Statusbar:
Alexa Internet - Toolbar Download
even if you don't have such geeky interests as I do. Knowing at a glance if the retailer you're about to purchase from is a topsite or some fly-by-night that no one has ever heard of can be a handy thing to base a decision on.
Remember though - not every tiny site is bad, nor does simple page rank denote good, as Alexa deals with raw data alone you wont even know if a rise in activity is simply due to seasonal change and bored people surfin' the interwebz, or a drop because it's the holidays...
Still, it's kinda nifty to try and figure out trends