Well after wayyy to long of fumbling around with the supplied pulley and bracket that just didnt want to work cooperate with me, i checked around to see what some other options were on the interwebs, i saw a few people have used automotive, or other bike pulleys or a skate wheel and etc, well i had some old skateboards in the attic with some still good but fairly worn down wheels, after a few minnutes of thinking i came up with this.
Using a 1" steel brush using a power drill i slowly went around the wheel to make the groove the wire brush makes it super easy to work with since it doesnt just melt the material back together. I used one of the longer mounting bolts, the spacer from the stock pulley and some various nuts and washers to mount in line with the chain and drilled a hole just large enough in the down tube to accommodate the bolt and it seems to work very well for me, and there's just enough tension to barely spin the skate wheel and keep the chain in line against the wheel when it goes a little crazy.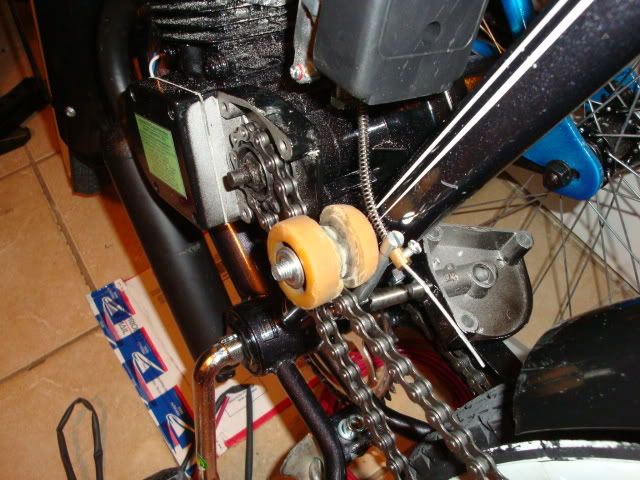 saved me from a LOT of headache, hopefully it will help some of you guys out =)
let me know what you think, any comments or insight good or bad welcome.